Film and TV industry combine for fight for the future
---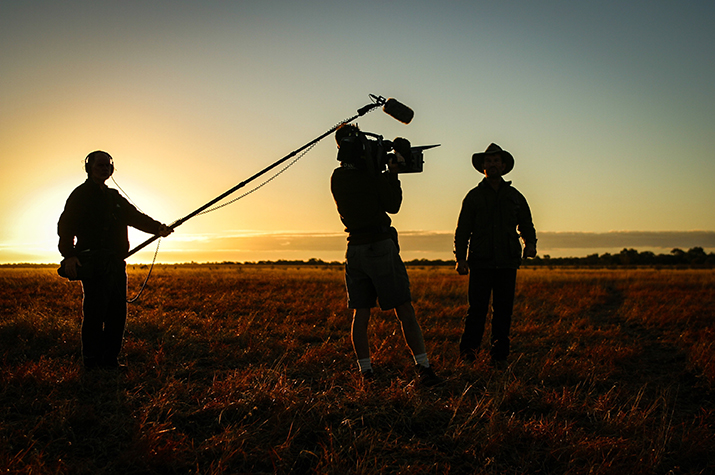 Australia's film and TV industry will come together on Monday, September 18 to launch an historic campaign for the industry's future.
In the wake of sustained funding cuts and changed viewing habits, the Make It Australian campaign will see intense lobbying efforts from members of the Australian Directors' Guild, Australian Writers' Guild, Media, Entertainment & Arts Alliance and Screen Producers Australia to ensure Government support for the sector.
Hundreds of directors, writers, actors, screen crew and technicians, and producers will be attending launches on Monday in Sydney, Melbourne, Brisbane, Adelaide, Perth and Hobart (see venue details on the next page), with some big names from both in front of and behind the camera to be revealed as campaign supporters.
The four organisations have combined forces to fight for:
•  reform of local content rules to include the burgeoning digital platforms, including streaming video on demand;
•  the restoration of funding to public broadcasters and Screen Australia, who commission a significant proportion of local comedy and drama; and
•  the modernisation of our production incentives to make them globally competitive at all levels.
The four groups are also determined to fight any attempts by free–to-air commercial networks to walk away from their obligations to produce original children's programming.
The new campaign comes as the House of Representatives and the Department of Communications, Screen Australia and the Australian Communications and Media Authority are conducting reviews which could have far-reaching implications for the industry.
The campaign will also reconnect with the original Make It Australian campaign of the early-1970s, which led to the content rules that shaped the Australian television landscape we see today.
"We are at a critical moment for the screen industry with the government set to decide on whether we keep Australian content quotas which guarantee Australians the chance to see and hear their stories," said Kingston Anderson, chief executive officer of the Australian Directors' Guild. "We must ensure Australian stories are seen on all our screens – big and small – and that the unique Australian voice is heard for generations to come."
"The right to tell our own stories, from our own perspective and in our own voice is not something that just happened, it's a battle that had to be fought," said Jan Sardi, president of the Australian Writers' Guild. "With the Make It Australian campaign of the 1970s the battle was won, but the war to keep it Australian has never ended, and it's now entering a new, critical phase, with Australian children's television hanging in the balance and the future of all Australian content under threat. Without a new regime of platform neutral quotas and content regulations there will be no scripted drama, no kids' television, and no stories or culture of our own to pass on to future generations whose screens, as well as their hearts and minds, will be filled instead with foreign content and reality shows, and because of the US Free Trade Agreement, once it is gone, it is lost forever. It's for this reason that the AWG is uniting with the other guilds and industry associations in this new Make it Australia campaign which will culminate in day of action, on September 18."
"Australia has a long and proud history as a successful maker of Australian stories for screen, but this is not something that can be taken for granted," said Paul Murphy, chief executive officer of the Media, Entertainment & Arts Alliance, the union which represents performers and screen crew. "Without real leadership from government to recognise how viewing patterns are changing and to properly support local production, our screens, both big and small, are in danger of being flooded with voices in American and British accents. Our members will be out in force during this campaign to prevent that happening."
"It's great to see the production industry get together behind this important, historic campaign," said Matthew Deaner, chief executive officer of Screen Producers Australia. "Once again it is time for the industry to unite, and we have. All elements of the industry have come together to plan this major national campaign. In the 1970s we made it Australian, now we must again, Make it Australian.  We're stronger united than divided. I encourage the industry and community to get involved in the campaign and ensure Australian stories remain on Australian screens."
Campaign launches will be held at the following venues and times:
Sydney: Event Cinemas, George Street, 6pm
Melbourne: ACMI, Federation Square, 3pm
Brisbane: William Galloway Auditorium, TLC building, Peel Street, South Brisbane, 6pm
Adelaide: Mercury Cinema, Morphett Street, 5pm
Perth: Luna Cinemas, Oxford Street, Leederville, 4pm
Hobart, Fullers Bookshop, Collins Street, Hobart, 5.30pm