Federal Council adopts plan for growth
---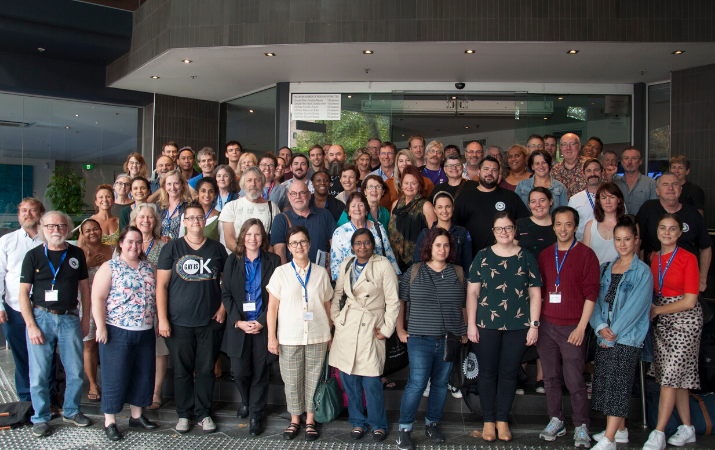 MEAA membership is growing despite significant challenges posed to unions and the media, entertainment and arts industries.
---
MEAA's elected Federal Council met face-to-face last week to reflect on what has been working and how we can continue to push to improve.
Strategies to harness public support for journalism and the arts are key initiatives that build on a bedrock of strong workplace organising.
Councillors also discussed digital communication and organising with members, and more inclusive leadership as areas for improvement.
The plan, overwhelmingly endorsed by the council, will set MEAA's strategic direction for the next four years.
The Federal Council meeting on Friday and Saturday followed full-day face-to-face meetings by the Media, Equity and Entertainment, Crew & Sport national committees to finalise their own detailed section plans.
View an album of photos from the Federal Council meeting
If you are having trouble seeing this gallery on your phone or browser, view it on flickr.
MEAA's Federal Council is made up of 92 elected rank-and-file members, with delegates from every section and branch of the union. It is MEAA's ultimate governing body with the power to make changes to the union's rules, laws and constitution.
A regular face-to-face Federal Council meeting is held every two years, usually following elections the previous year. The 15-person MEAA Board is responsible for day-to-day governance of the union and meets at least every two months.
'Cannot stand still'
Opening the Federal Council meeting on Friday morning, Federal President Simon Collins said MEAA membership had grown slightly since the last meeting in February 2018, highlighted by more screen technicians joining the union and the rapid expansion of the new Musicians Australia membership category.
But he warned the union could not afford to stand still in an era defined by technological change, insecure work and a hostile political and industrial environment.
"We have to be ambitious and prepared to take risks," Mr Collins told delegates. "Old models of behaviour must be stress-tested and where they are found wanting, new ideas embraced.
"To remain strong and relevant, we need to adapt to changed circumstances, to be innovative and to understand how our members' needs are evolving. We also need to be prepared to explore new territories and to tailor membership options to suit the workers of today."
"We have to be ambitious and prepared to take risks. Old models of behaviour must be stress-tested and where they are found wanting, new ideas embraced."

MEAA Federal President Simon Collins
He referred to the relatively recent experiment of Musicians Australia and the Love Live Music campaign, which helped double the membership of the Musicians section in just 12 months, and organising in the publishing industry as examples of the success that came from being innovative and ambitious.
Mr Collins said MEAA would be taking advantage of digital tools to organise workers and to campaign in areas such as freelance journalists, but this would not be at the expense of existing workplaces.
"Of course there is a still a place for enterprise bargaining and large-scale organising of large workplaces . . . but it is equally true that only organising around a diminishing number of traditional workplaces is a slow but sure path to decline and irrelevance.
"If we are to serve our members in the modern workforce effectively, we have to be prepared to interrogate what is the best model for our union and the best way of achieving that. We have to be responsive to the needs of workers in this environment, to go where the potential members are, to research and understand what motivates them and what they are looking for from a union, and we need to talk to them in their language.
"Not all workers require or want the full service union model. Not all workers have a fixed employer or place of work. We must think bigger than individual workplaces and campaign across industries, not just for pay and conditions, but for funding and respect and recognition."
'Anti-democratic threat'
Mr Collins also warned delegates of the threat posed by the Ensuring Integrity Bill, which the Morrison Government has pledged to reintroduce to Parliament after it was rejected by the Senate last year.
"This is an anti-democratic piece of legislation designed to intimidate unions, making it harder for workers to win pay rises and protect their jobs," he said.
"It is not taking place in isolation but is part of a pattern of increasing authoritarianism that seeks to silence truth tellers, whether they be journalists, artists or unions."
Apart from the endorsement of the four-year strategic plan, another highlight of the Federal Council meeting was the adoption of a Reconciliation Action Plan for MEAA. To be developed over the next 12 months, the RAP will cement MEAA's role as a partner in reconciliation, setting tangible goals and obligations for the union to contribute to reconciliation, engage meaningfully with First Australians and work to advance and respect their interests.
Labor Senator Patrick Dodson, often referred to as 'the Father of Reconciliation', addressed the meeting on Friday morning. He outlined the challenges and obstacles to lasting reconciliation and a voice for Indigenous people in our constitution and Parliament.
Senator Dodson welcomed MEAA's commitment to giving Indigenous Australians a greater say in the leadership of the union and urged performers, journalists and others with a public profile to use their influence to assist the cause of reconciliation.
Federal Councilors also approved Gold Honour Badges for services to MEAA to Shauna Black, Corinne Grant, Pearl Tan, Ben Butler, Terry O'Connor, David Turnbull and Sue Marriott. Shauna Black was present to receive her badge from Media federal vice-president Karen Percy, while the other badges will be presented at events in the recipients' home states.