Equity honours industry stalwarts at gala ceremony
---
One of Australian show biz's favourite couples, Jill Perryman and Kevan Johnston, have been proud members of the Equity section of MEAA since they began their careers as performers  more than five decades ago.
The Equity Foundation bestowed their most recent Lifetime Achievement Award on the couple at gala ceremony in Melbourne featuring performances by Todd McKenney, Bert and Patti Newton, Verity Hunt-Ballard, Lucy Durack, Nancye Hayes, Tony Sheldon and the Tap Pack .
"It was so wonderful to receive an award together. It really means a lot to us," says dancer, choreographer, teacher and joint recipient of the 2013 Equity Lifetime Achievement Award, Kevan Johnston.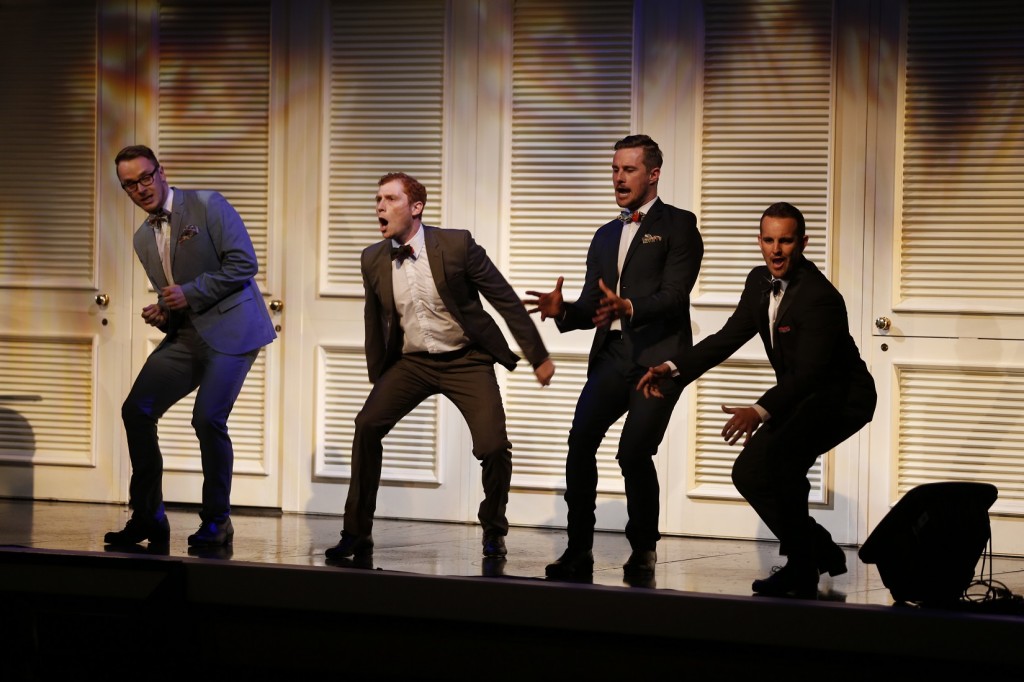 "I think this is the most joyous thing – that we have won this together," says Johnston's wife, legendary Australian performer Jill Perryman.
"We have known each other for 60 years," Johnston says. "We have been married for 54 years. We really started our professional careers together [in 1954 JC Williamson production Call Me Madam, in which Johnston was a principal dancer] and we have been by each other's side ever since."
With the support of principal sponsor Foxtel, the Lifetime Achievement Award was established by the Equity Foundation in 2009 to recognise members who have not only had remarkable careers as working performers but have also given back to their industry. Previous recipients were Peter Carroll, Bob Hornery, Maggie Dence and Ron Haddrick.
Todd McKenney was among the many Australian performers who nominated Perryman and Johnston for the award.Equity Lifetime Achievement Award, Her Majesties Theatre, Melbourne
"Both Jill and Kevan have not only inspired millions of theatregoers in Australia due to their brilliant performances in a vast number of shows but, more importantly, they have continued to encourage young theatrical stars of the future to follow their dreams," he says. "On a personal note, Kevan taught me to dance like a bloke and Jill amazed me every time I watched her perform on TV, stage or in concert. Working opposite Jill in The Boy From Oz will always be one of the most wonderful memories for me."
WAAPA graduates Lisa Sontag and Natalie Alexopoulos also nominated the couple. Sontag worked with Perryman on The Boy From Oz, while Alexopoulos was cast in her first professional role out of WAAPA as the couple's daughter in On Our Selection at Tranby House in Perth. Sontag and Alexopoulos said their "care, wisdom and grace could not have been a better introduction" to the Australian theatre world.
Perryman and Johnston were selected from many impressive nominees by Equity's National Performers Committee (NPC).
Speaking of the committee's decision, NPC member Jonathan Mill says: "Jill and Kevan go back to the very beginning, of course, the new beginning of Australian music theatre in the 1950s with lead roles played by Australians. They didn't just work in music theatre, but were terrific 'straight' actors – in film, on television and, particularly in their hometown of Perth, on stage. They taught at WAAPA and have influenced a whole new generation of Equity members."
They are the first joint recipients of the award. "They worked together, they danced together, they lived and loved together, so giving this award to just one of them wouldn't have worked," says Mill. "It is a new approach to the Equity Lifetime Achievement Award, giving it to a couple. We had so many outstanding nominees this year but there were just so many reasons to vote for them and no reasons not to."
In November last year, Equity president Simon Burke hosted a gala ceremony for Johnston and Perryman at Her Majesty's Theatre in Melbourne. More than 200 people packed the theatre to enjoy tribute performances by musical-theatre stars Verity Hunt-Ballard and Lucy Durack and The Tap Pack, as well as Johnston and Perryman's close friends Bert Newton and Patti Newton, Tony Sheldon and Nancye Hayes.
Sheldon says his specially crafted performance with Hayes was "a small way to thank them for all the joy, encouragement and inspiration they've provided over the years. Jill and Kevan's stage performances live amongst my most treasured theatrical memories, so to be a part of their Equity Lifetime Achievement tribute was a small way to thank them for all the joy, encouragement and inspiration they've provided over the years. They are the very essence of Australian musical theatre."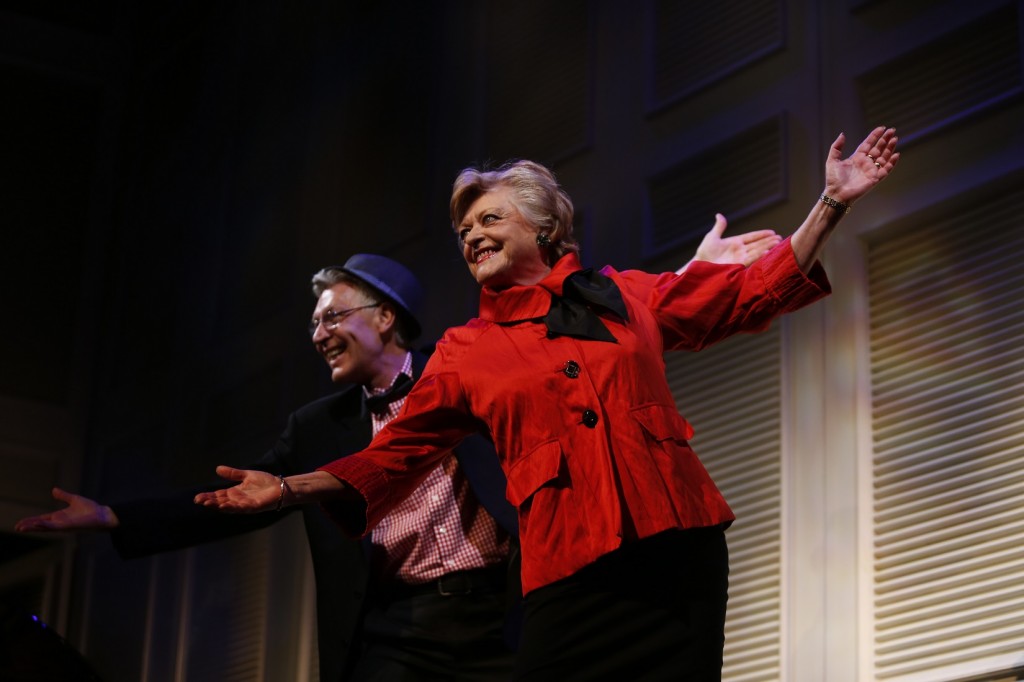 Patti Newton met Johnston when she was just 15. "I was in the ensemble for a JC Williamson production of Bye Bye Birdie at Her Majesty's Theatre in Melbourne. Kevan was starring in the show. He was just wonderful. Very nurturing. It was a very nice way to start my career. To be around people like Kevan.
"Being part of the Equity awards show for Jill and Kevan was one of the nicest things Bert and I have done in a long time. They are both such icons of the industry. We have a great respect for them and we love them dearly."
Born in 1931 to a family of Perth entertainers, Johnston danced at His Majesty's Theatre in Perth from the age of five. He appeared in the musical Sally in 1950 and The Affairs of Angeline the following year. Both productions were staged by his aunt, Renee Esler.
Perryman was just two when she made her stage debut. Her performer parents, Dorothy Duval and William Perryman, were touring with a production of White Horse Inn when she wandered on to the set – she ended up playing a part in the show and was billed "Baby Perryman". Equity Lifetime Achievement Award, Her Majesties Theatre, Melbourne
In 1952, at the age of 19, she began a long association with JC Williamson Theatres. The following year, she understudied Evie Hayes in Call Me Madam, then went on to appear in numerous major musicals, such as South Pacific, Paint Your Wagon and The Pyjama Game.
Her big break came in 1965, when she was cast as Irene Molloy in Hello, Dolly! and took over the lead when American star Carol Cooke became ill. This led to the role that made her a star – Fanny Brice in JC Williamson's 1966 production of Funny Girl.
"It was a wonderful time in my life," she says. "And Nance Hayes was in Sweet Charity at the same time. It was such a feeling of joy that we were both in these shows."
Johnston also spent many years working for JC Williamson's, dancing principal roles in such productions as Can-Can, Paint Your Wagon, Bye Bye Birdie, Pippin, Carnival! and Annie.
"We knew each other for five years before we got engaged," Johnston says. "We didn't have a typical courtship. We were friends. We knew each other very well."
"I often used to say, he chased me until I caught him," says Perryman.
Johnston says they have been very, very lucky. "Through everything, we have had each other. I really believe marriage is a lottery. If you get the right number, well, you win."
"Sometimes it was hard being Mr Perryman," he says. "But Jill was very good about keeping work and family life separate. Once the curtain went down, she was asking, 'What time's that bus home?', or 'How are the kids?'. We became Mr and Mrs Johnston, whatever we were doing, as soon as the curtain went down. And we managed to make it work out. Our kids have grown up, we've got four grandchildren, and that was the important thing."
When asked their advice for the next generation of performers, the couple are characteristically humble.
"I don't think I am the best person to give out advice because I never really had any ambition," says Perryman."It never drove me. I was always happy in the chorus and when these other things came upon me, it was a shock."
"I do think Jill taught younger performers about how to behave backstage," Johnston says. "She always treated everyone with respect. She never acted like a star. There's an incredible amount of competition these days. You have to have talent in so many areas. I look at the dancers now and think, I wouldn't get a job!"
In a nutshell, Johnston says: "You've got to be in the right place at the right time and have the talent."
"And you've got to work hard. We've worked hard all our lives," adds Perryman.