Elizabeth McRae honoured with Lifetime Achievement Award
---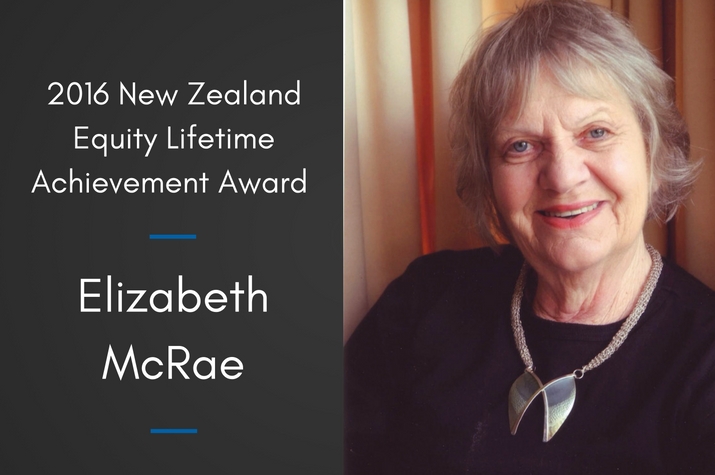 Equity New Zealand is thrilled to announce that Elizabeth McRae is the recipient of the 2016 Equity Lifetime Achievement Award presented by Ryman Healthcare. 
Elizabeth McRae started her acting career in the 70s with a string of TV and film credits including Terry and the Gunrunners, Go Girls, A Death in the Family and Rest for the Wicked. She is best known however for her role of receptionist Marjorie in the hit TV series Shortland Street.
Equity President Jennifer Ward-Lealand says: "I'm absolutely delighted that Elizabeth has been chosen as our Equity Lifetime Achievement Award recipient. She is well-known for her fine work as an actor and teacher and there are generations of actors who have been the lucky recipients of her wisdom and experience."
Elizabeth McRae was nominated by New Zealand performers and selected by the board of Equity New Zealand.
The Equity New Zealand Lifetime Achievement Award is made possible with the generous support of Ryman Healthcare.
David King, Corporate Affairs Manager at Ryman Healthcare, congratulated Elizabeth on her award: "We are absolutely delighted to support this recognition of the contribution Elizabeth has made to entertaining us all over so many years. Anyone who watched TV in the 1990s will remember her with affection as the busybody Marje from Shortland Street. As well as a superb actor she has been an inspiration to many generations of younger people learning their trade, and she thoroughly deserves this recognition for her long years of hard work and commitment to the profession.''
Elizabeth McRae will be honoured at an awards ceremony in Auckland in September.