Support Burmese journalists in exile
---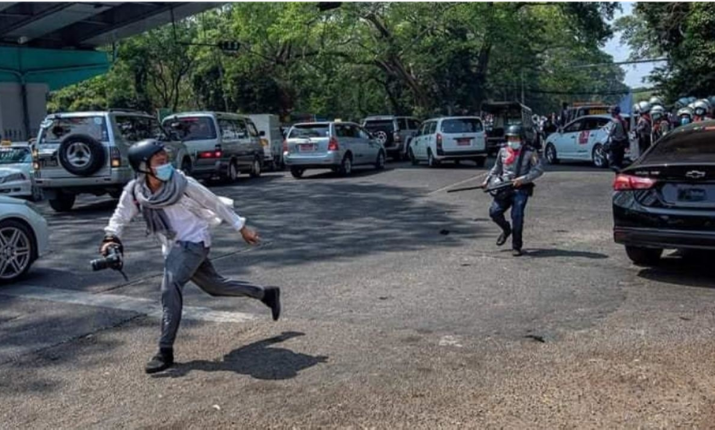 Since the military coup in February, independent journalism in Myanmar has been forced underground.
Journalists have been beaten and shot, at least 85 have been arrested, more than 40 detained and several jailed for up to three years. Independent media outlets have been stripped of their licences to operate, and dozens of warrants have been issued for the arrest of other journalists.
Burmese journalists are in hiding not only in Myanmar but elsewhere in the region, seeking safety from persecution and violence. However, Thailand has just sentenced three Burmese journalists to seven months jail and fined them for entering the country.
Despite all these risks, Burmese journalists courageously continue to work underground in Myanmar or Thailand to ensure the crimes of the military junta are revealed to the rest of the world.
MEAA is working with the Foreign Correspondents Club of Thailand to provide emergency financial support to exiled Burmese journalists working on the Thai-Burma border. Can you help with a small donation through the Media Safety and Solidarity Fund?
MEAA has called on the Australian Government to strongly condemn the attacks on press freedom in Myanmar, and to support the safe relocation of journalists under threat in their territory.
This includes providing safe haven, security and support for journalists facing immediate threats in Thailand, including facilitating their relocation to Australia if sought.
The blatant attacks on journalism in Myanmar show once again how vital press freedom is to democracy. Burmese journalists are putting their lives on the line.
The FCCT's Myanmar journalist fundraising appeal is providing emergency cash grants of 6000 baht, or about $250, to Myanmar media personnel who are in exile in Thailand to help with living expenses as they find somewhere live. Grants are 6000 baht. There is also a grants program to support journalism projects.
Please help them if you are able to.

Read more: