Spotlight on Tyron Butson
---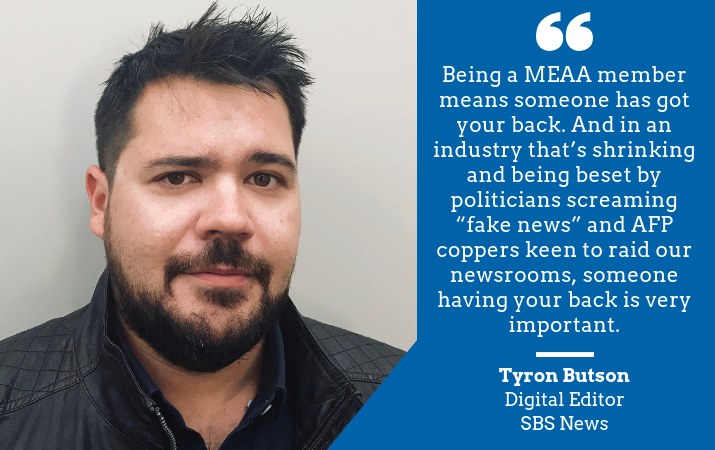 Tyron Butson is the digital editor for SBS News. He has been a MEAA member for his entire career and union delegate in several of the newsrooms he has worked on, and was recently elected to MEAA's Federal Council as a Media section delegate from NSW.
---
How long have you been working in the industry and how did you get your start?
I've been a journalist – across print, online and to a lesser extent TV – for 15 years.  That's seen me cover everything from politics, cops and court and sport through to working chief of staff and editor roles.
As an 18-year-old I interned and did as much casual work as I could at newsrooms across Sydney – but my first full time reporting gig came about a year later when a colleague at The Daily Telegraph suggested I go regional to get a full-time gig. She'd seen a sports cadetship in Bowral, NSW – the home of Sir Donald Bradman and the spiritual home of Aussie cricket. Despite knowing almost nothing about Bradman and only having the faintest idea about covering sport I got the job and went from there.
What is the best thing about your job?
I'm naturally nosy and I love getting to the bottom of mysteries. The longer I work in the industry, the more passionate I become about telling those stories – especially giving a voice to those who are often overlooked or uncovering the sort of things powerful people want to keep hidden.
That's it for me – I get a genuine joy out of allowing people to tell their stories. I've seen it with grieving families on death knocks and proud parents detailing their son or daughter's sporting prowess. It's an honour to have these people invite you into their lives to share.
What have been the highlights of your career so far?
Those "did that actually just happen?!" moments are certainly the ones that stay with me – from embedding with Australian Army Commandos, to hanging around with bikies, almost getting run down by Vladimir Putin's convoy at G20 through to coordinating coverage of massive news events such as the Martin Place siege, elections and political spills.
What would be your advice to people wanting to break into your industry?
Be across the news, be engaged with what's going on and consume news. There's nothing more frustrating than interviewing someone for a job or meeting student journalists only to find they can't tell you what would be on the newspapers' front pages or leading the news websites that morning.
Why is it important to be a member of MEAA?
Being a MEAA member means someone has got your back. And in an industry that's shrinking and being beset by politicians screaming "FAKE NEWS" and AFP coppers keen to raid our newsrooms, someone having your back is very important.
Journalism is important – it shines a light on injustice, it uncovers corruption and injustice and it needs to be preserved.
So, when management comes to slash jobs and the reporting budget because funding quality journalism is expensive, we can only stand up for our craft by standing together.