Spotlight on Erin Roche
---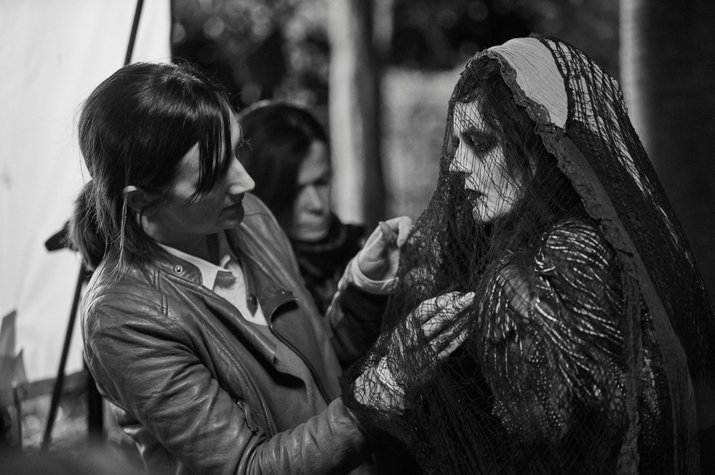 Erin Roche is a Melbourne-based costume designer and proud MEAA member who will soon be jetting overseas on a Churchill Fellowship to visit film and TV productions in North America and Europe to observe how other costume designers and departments work. She aims to bring back what she learns to her work in Australia, which in recent years has included The Beautiful Lie, The Wrong Girl, and Boys In The Trees. Erin will be regularly posting while overseas on Instagram.
---
What does your job entail?
I'm a costume designer.  I create the visual style of each character.  I collaborate with directors, actors, producers, production designers and makeup artists to shape the characters and I usually have a team of costumiers to help deliver the final rendering of the costumes to screen.
How long have you been working in the industry, and how did you get your start?
I have been in Melbourne for 13 years working in film and TV.  Before that I was working in London in sculptural costume making.  I grew up in Brisbane, studied fashion at TAFE and worked in costume making at Theatre Enterprises while I was a student and my first job out of college was at Warner Brothers Movie World costume department.  One of my earliest duties was polishing the Batman costumes every morning.
What does a typical day or week for you look like?
There are no typical days.  Every show runs to its own rhythm.  A usual working week is a minimum of 50 hours but more often than not we work longer than a 10 hour day.  The position of costume designer is very varied and the daily tasks are really diverse which is one of the reasons I love my job.  I could be standing in mud and rain at a location at 5am one morning, in a high-end fashion retail store or Savers the next, in a fitting room for a day, or in a production meeting for a day. I could be selecting fabrics, in an industrial estate looking for a dye house, collaborating with a jewellery designer or in a stunning secret location on set. Our workplace is a decision dense environment in a constant state of kinetic motion.
What is the best thing about your job?
The people I get to work with, our film and TV industry is a great community.
What have been the highlights of your career so far?
Designing Boys In The Trees and The Beautiful Lie, both were great collaborations and had design processes I really loved.
What would be your advice to people wanting to get into the industry?
Be persistent and enjoy learning all aspects of the costume department.  There are many different and important roles within the costume team and understanding what each of those are adds to your skill set as a costume designer.  Keep looking for people that work in a way you respect and that you want to work along side of, it can take a while to find them but when you do it's a great experience.  Be prepared for the highs and lows of freelancing.  It will be important that your close friends and family also understand what freelancing means. You will work weird hours and lots of them or none of them.
Why is it important to be a member of MEAA?
MEAA promote better conditions and rates within the film and TV industry.  As the industry changes it's important to have a union that is looking into the details of those changes, for example international co-productions and offshore productions to ensure the safety and rates for local crew are looked after.  It's great to have someone to call if you're unsure of difficult situations that arise in the workplace and to know your professional rights.  As freelancers we are all individual businesses, as a collective in the MEAA we are stronger in negotiating rates and change for the better.
How did you win the Churchill Fellowship opportunity and what will you be doing?
The Churchill Fellowship is a fellowship that is open to all professional Australians to apply.  The fellowship supports professional development abroad to better the skill set of individual Australians who will return to share that new knowledge within their workplace communities.  I applied at the beginning of 2016, there was a detailed application form and a few rounds of interviews.  I found out I had been successful in November 2016.  I was working in Perth at the time and couldn't stop buzzing about the production with excitement.
I will be traveling to Vancouver, LA, New York, London and Europe to visit film and TV shows in production, to see how their costume designers and departments work.   I will also be visiting costume rental facilities, museums, galleries and universities to look at costume in a broader context. The trip will take seven weeks.  It's an amazing opportunity and I encourage everyone to apply.