Spotlight on Chris Webb
---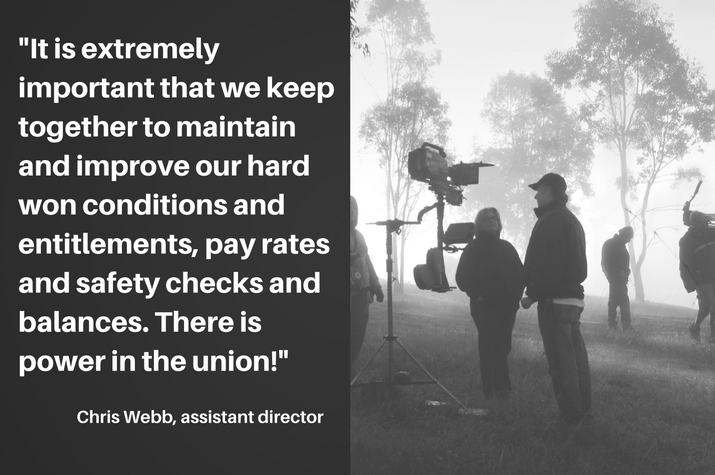 Chris Webb is an assistant director and proud MEAA member. Chris started his career at the ABC where he worked his way up to being an assistant director and once he was given the opportunity to work on Peter Weir's The Year of Living Dangerously, he became a freelancer. Chris chats to us about is role, career highlights, and why he feels it's important to be a MEAA member. 
You are working on a project in India at the moment, can you tell me a little about that?
I'm working on a film called Hotel Mumbai that concerns the events of November 26th, 2008, when a group of terrorists/gunmen attacked various targets in Mumbai and in particular the iconic Taj Hotel. The story is told from the perspective of people trapped within the Hotel and the accidental heroes that were many of the hotel staff. We have shot for five weeks in Adelaide and we are currently prepping for a three week shoot here in monsoon lashed Mumbai.
Can you explain your role to me?
I suppose some would say it's middle management. I create the shooting schedule for the film, juggling all the ingredients and availabilities to cobble together a plan. Once we are shooting then I guess the AD's role is to be the foreman on set, trying to ensure that each day is shot in the time allotted, safely, and hopefully with a bit of flair and élan thrown in.
Take me through a full day for you on set.
Up at sparrows. Arrive at location usually an hour before call to check in with the early starters, unit, the AD's, make-up and costume. At breakfast I'll talk with the crew re the day ahead, safety notes - no bullying or dobbing will be tolerated! Then it's set-up, rehearsal, filming, dodging the weather and other uncontrollable factors. Dealing with the many and varied egos. Lunch, checking the next days plan. Back to it for the afternoon, invariably a rush to make the day in the time allowed or before the light is lost. Wrap is called. Home, shandy, bed.
How did you get your start in the industry?
I'd always been interested in film and TV. I approached the ABC and told them I wanted to read the news. They gave me a job as a cleaner at the old HQ at Gore Hill in Sydney. That was a leg in the door and I then became a stagehand, a set dresser, stand-by props man, floor manager and then an AD. I was fortunate to be asked to work on Peter Weir's The Year of Living Dangerously, and so left the ABC and have been freelance ever since.
What's the best thing about your job?
The people and the places. It is generally great fun and a privilege to work with fellow gypsies and scallywags in locations, and with communities, that most people rarely get to experience.
What are some of your career highlights?
Working shoulder to shoulder with some wonderful directors, actors, technicians and people from all walks of life.
What would be your advice for people wanting to get into the industry?
Don't be afraid of getting your hands dirty or asking questions. Listen and watch. Go for it!
Why is being a MEAA member important to you?
It is extremely important that we keep together to maintain and improve our hard won conditions and entitlements, pay rates and safety checks and balances. There is power in the union!