New MEAA president wants to get union back in tune
---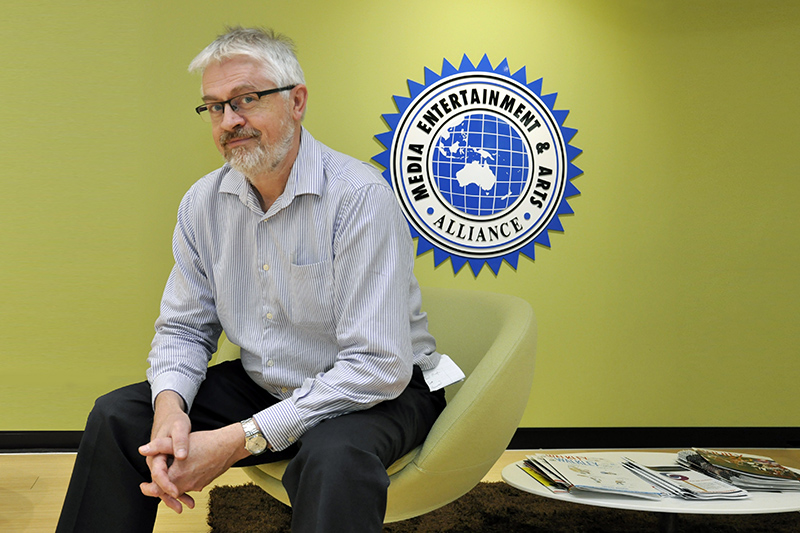 Simon Collins talks of his plans to increase activism within MEAA.
Growing up in a house full of music, it was perhaps inevitable that Simon Collins would become a professional musician, but less so he would also become a union leader.
With a father who played the violin in the Adelaide Symphony Orchestra and taught the instrument, there was little doubt Collins would reach the same standard.
As soon as he finished school in 1978, he joined the ASO himself, and his three younger sisters have followed the same path into careers as musicians or music academics.
But while it was his destiny to make music his career, Collins' second role as a committed union activist was more accidental.
And yet, after recently retiring as a full-time musician, it is now to MEAA that Collins is devoting his energy and focus as the union's new federal president.
Collins assumed the role of president in April, succeeding Patricia Amphlett who had held the position for more than a decade.
He has been involved in key positions at the union since the early-1980s, when he first became active with the Musicians' Union of Australia, and was an instrumental figure in the creation of the Symphony Orchestra Musician Association (SOMA) in the mid-1990s.
Collins says he never had any great ambition to be MEAA's most senior elected official, but having served on the federal management committee for two decades felt he had something to offer when Amphlett made it known she wanted to step away from the demanding role.
He says at first he was overwhelmed with a sense of responsibility, but "in the first few weeks I took the opportunity to go around and meet all of our senior staff and I was really floored by how committed they are and frankly, I was really impressed by them.
"After a day of meeting with them in Sydney, I came away feeling that the union is in good hands. I'm already quite excited and optimistic that we can face up to the challenges that are in front of us."
And the challenges are plenty. It is no secret that membership in the Media section of the union has been hit hard by the mass job losses of recent years, while for many other members work is insecure.
But Collins is confident the union has a strong future as long as it continues to engage with members and nurture a sense of activism.
Music in his veins
Collins grew up in Adelaide and began learning the violin from his father at the age of six.
His late father, Rob, was a foundation member of the ASO and a violin teacher, and his mother Mary played the piano, so the house was "a cacophony" of music, Collins recalls.
A couple of weeks after leaving school and aged 18, Collins joined the orchestra, and while he aspired at one stage to study science or medicine, music soon took over.
Two of his sisters, Jane and Elizabeth, also play violin for the ASO, while another sister, Lucinda, is a musician and head of the piano department in the conservatory at Adelaide University.
"All of us knew once we started getting professional work by the time we were about 17, it was a bit of a foregone conclusion," Collins says, quickly adding that given the competition for limited places in symphony orchestras, to gain one was an enormous relief.
"It takes a significant commitment of time [for practice]," to make the grade, Collins says.
"You have to stay in shape, it's like being an athlete, you work like hell to get there and have to work pretty hard to maintain your standards."
Collins was only 20 when he joined the Melbourne Symphony Orchestra as one of 12 viola players in 1981 and retired from his full-time position there at the start of September, although he will maintain a connection as a freelance player.
He first joined the Musicians' Union in Adelaide, but it was at the MSO that Collins' union activism began in earnest.
A defining moment, in his first year as president of the union, was a near strike in 1986 in a dispute with the then owner of the orchestra, the ABC, over royalty payments.
The MSO had been touring the country for six weeks with Elton John, and the final concert was to be recorded for television and video.
When the musicians found out that they were being financially dudded by the ABC, they refused to go on stage until management agreed to pay them properly.
"The final [union] meeting was literally as the stage call was about to happen so it was taken to the line," Collins says. "It was a bit of a baptism of fire for a 26-year-old."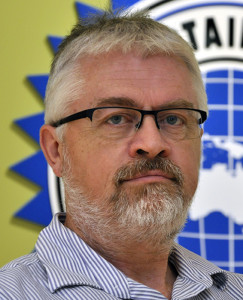 "As a union we need to re-engage with our membership because the union is the members."
The late 1980s was a highpoint of activism and organisation in the symphony orchestras, resulting in a breakaway from the Musicians' Union and formation of SOMA in 1995. The next year, SOMA affiliated with the MEAA and Collins joined the union's management committee.
Although SOMA has only about 550 members, Collins says the symphony orchestra musicians remain highly organised today, with about 95% union density of full-time employees.
That power in the workplace means that SOMA members have control over their rosters – incredibly important for musicians' health and wellbeing – and other workplace conditions needed for them to perform at their best.
He believes this activism comes from the inherent collaborative nature of playing in an orchestra.
"You have up to 100 people on stage working in an extraordinarily close enterprise, the connectivity between the individuals, that sense of working as a team, the idea of collectivism just sits perfectly with how an orchestra works.
"Other than a football team and an ensemble of actors, it sits perfectly with the idea of collective bargaining because we're doing it all the time."
Re-engaging with members is the key to success
Now, as federal president of MEAA, Collins hopes to reinvigorate that same sense of activism and engagement across all sections.
"We need our members not just to see the union as a service they pay for, pay your subs and expect to be delivered a service, but as a union we need to re-engage with our membership because the union is the members.
"For me, this means encouraging activism in the union and identifying activists and training them, involving them in the sectional structures."
With the breakdown of large, organised workplaces into individual contractors and freelancers, that may also involve the union providing new services and shelving some old ones.
But Collins says it is also important to remember that this is the way the Equity section has always operated.
Union delegates need to be trained to handle most issues in the workplace, with the union as a back up resource, he adds.
Collins says he is committed to transparency and good governance in everything MEAA does, and believes that will also send a positive signal to members.
He also wants to see the four sections of the union working together more as one united force on common campaigns, rather than how they have operated in the past.
"I think every opportunity where we can run a campaign across more than one section should be grabbed with both hands. I think campaigning is the number one way of recruiting and activating members. We have to activate our members so they do more than just pay subscriptions and wait for some magical outcome to happen to them."