Our job is to keep up the pressure
---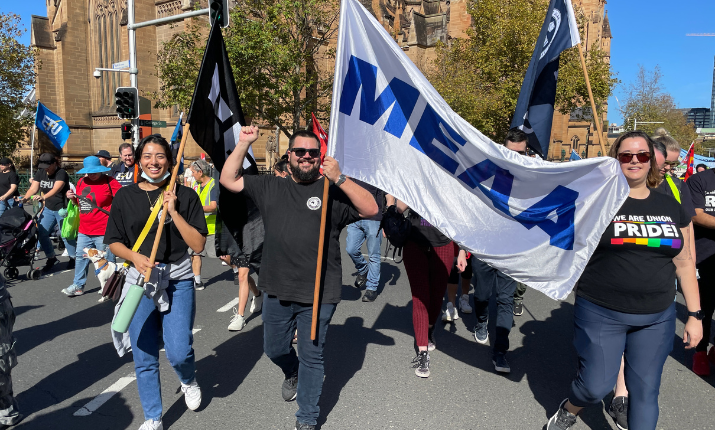 There may be a new government in Canberra, but the role of MEAA as the leading advocate for media, entertainment and arts workers has not changed,  says Federal President Simon Collins.
---
This time last year, Australia was still to fully emerge from the global COVID-19 pandemic which had a devastating impact on the media, arts and entertainment industries. Venues were slowly opening again but with limited capacity and the ever-present risk that a fresh COVID outbreak could cause more cancellations.
Working from home was still being encouraged, and QR codes and vaccination certificates were de rigueur.
And, of course, we were still stuck with a Coalition government in Canberra that was mired in scandal and incompetence, hostile to the arts and culture, and hell-bent on culture wars against journalists, creative workers and public broadcasters.
Twelve months later, and it is not only on the COVID front that we can feel optimistic.
The election of the Albanese Government in May has already been a game changer. No longer are artists having doors slammed in their faces, but they are being listened to by an Arts Minister who is determined to introduce a new national cultural policy, probably within the next few months.
After nine years of the Coalition, we are hopeful of finally getting changes on a large backlog of policies, such as the introduction of a local content requirement for streaming services like Netflix and Apple TV+, minimum fees for musicians' gigs, extra funding for bodies such as the Australia Council, support for regional and independent media and journalism, and improvements to the industrial relations system to make it easier for groups of workers in an industry to bargain together with employers, rather than site by site.
But history teaches us we should not rely on governments alone to fix all our problems.
Governments only respond to community pressure, and as the largest and most established union and industry advocate for creative workers, our job is to keep up the pressure, to lobby for change and never stop pushing for a better deal.
The same applies to how we engage with employers.
---
"Governments only respond to community pressure, and as the largest and most established union and industry advocate for creative workers, our job is to keep up the pressure, to lobby for change and never stop pushing for a better deal."
---
We can only achieve positive results by growing and building power with a strong and organised membership; by campaigning with solidarity and discipline and celebrating what unites us rather than dwelling on our differences; and by reaching out to the broader community and connecting them to the work our members do informing and entertaining all Australians.
Even in the darkest days of the pandemic, this has been our focus, and the strategic plan endorsed by your elected representatives on Federal Council in February 2020 has been our guide.
We now look forward to the next Federal Council meeting in early 2023 when we can review our progress over the past three years and map out the next steps in our plans to win.
That Federal Council meeting will be attended by a different group of representatives following the union elections which concluded in January and produced some significant changes to MEAA's leadership.
Marcus Strom indicated he would not be standing again after two terms as Federal President of the Media section and so we have a new President in Karen Percy, who won a contested election and previously served as a Vice-President. She is supported by two new VicePresidents, Leigh Tonkin and Erin Delahunty.
Ursula Yovich has been elected a Federal Vice-President of Equity and is the first person from an Indigenous background to hold such a senior position in the union. Zoe Watkins was also elected ECS Vice-President.
In total, there were 43 new members elected to MEAA's 95-person Federal Council, and this is the most representative and diverse group in our union's history. We have more women than men, more people of colour, more First Nations representatives, and more freelancers among our leadership group.
We have also said goodbye to Paul Murphy after seven years as Chief Executive, and three years before that as the Director of the Media section.
Throughout that time, Paul has led MEAA with unwavering passion, commitment, humanity, and a razor-sharp focus on our strategic goals. COVID-19 was the largest challenge our union has ever faced, but in Paul we had the right person to deal with it. His calm and measured leadership during the pandemic not only ensured we weathered that storm, but we have emerged from it on the verge of great things.
On behalf of the entire membership of MEAA, and particularly the Board and Federal Council, I would like to thank Paul for his service over that time and wish him all the best for the future.
Our union is now in the very capable hands of Erin Madeley. Erin is MEAA through and through and as Director of Operations for the past couple of years she worked closely with Paul during the pandemic.
When we advertised for candidates to replace Paul, Erin stood out with her energy and enthusiasm for the job, her dedication to members and her belief in the power of the union to effect change.
Finally, thank you to all our members for your support during a period of great adversity. This is your union and through your ongoing commitment and dedication every day you embody the spirit of unionism.
This article was first published as a message from the Federal President in the 2021-22 MEAA annual report.