MEAA strengthens global links with crew and entertainment workers
---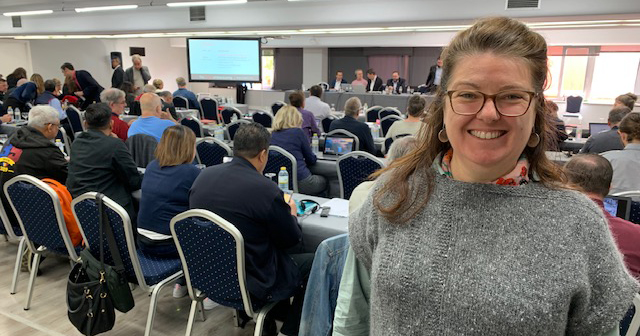 MEAA is strengthening its links with unions representing crew and entertainment workers around the world this week as ECS president Fiona Donovan represents Australian members at the global UNI MEI conference in Madrid.
UNI MEI is the division of the global union UNI representing workers in the media, entertainment, arts and sports sectors (staff freelance, independent and contract workers). It brings together over 100 union and guilds in over 70 countries.
"It was great to hear about the successes unions are having and share ideas about the issues we are all experiencing at work," Ms Donovan said.
"We know that sharing information internationally on things like bargaining and safety helps us when we are tackling the same challenges at home.
"Initiatives in Europe on local content quotas, collective bargaining rights and safety as a result of union campaigns help us enormously when we talk to our politicians and employers about what's possible. I'm so proud that our members, through our global union, can be a part of those advances.
"It's also important to build new unions for crew in places like Colombia, where more film and TV production is going. It's inspiring to hear about the successes those workers are having in such a difficult environment with the assistance of other industry unions from North and South America."
Ms Donovan said it was also clear that the #metoo movement was still having an impact in our industries.
By highlighting the power imbalances in our industries and more broadly, it has created an opportunity to drive improvements to safety, equality, diversity in many countries, including MEAA's work on industry-wide sexual harassment and bullying policies and intimacy guidelines," she said.
"We've got some great ideas from other unions about how we can keep building on this work.
"I'm looking forward to the discussions to come about the future of broadcasting and bargaining in film and TV. One of the biggest problems we've had in Australia is global employers playing workers from different countries off against each other to try to cut our conditions. Through UNI MEI we have the opportunity to turn that around and push for better conditions together."