MEAA sets a new benchmark for crew rates
---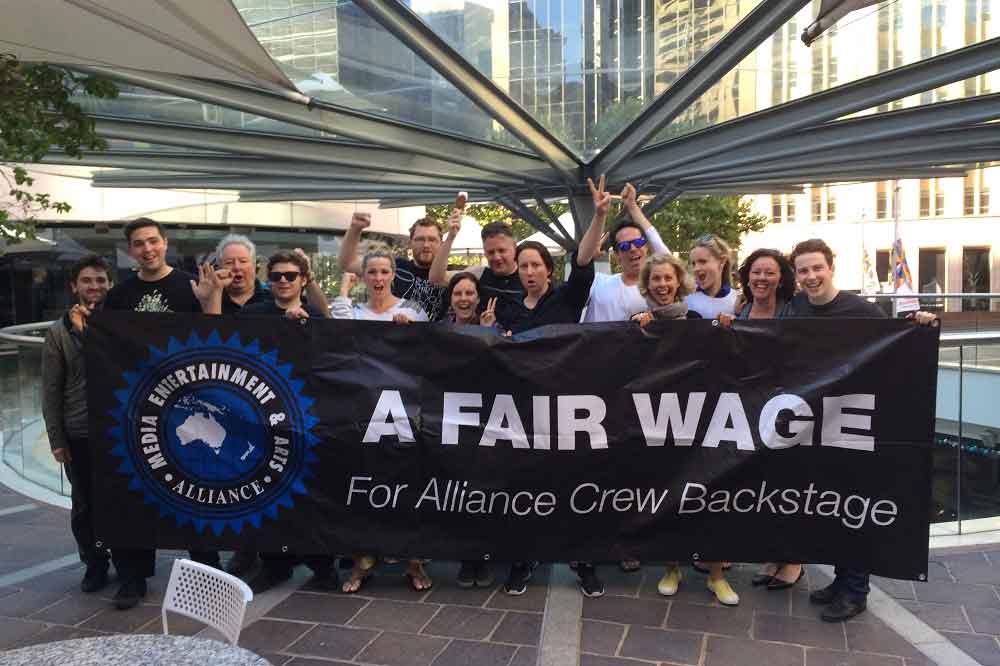 The biggest issue raised by crew is the stagnation of rates over a long period of time. When rates stay the same but cost-of-living goes up, the real value of the crew member's income falls.
This makes it harder and harder for crew to stay in the industry. We have seen skilled, experienced crew leaving the industry because of their financial situation.
It is not sustainable for the industry to rely on crew rates staying the same indefinitely. We need to work together as an industry to address this problem.
The Media, Entertainment & Arts Alliance (MEAA) solution is to include benchmark market rates of pay that will increase each year in the Motion Picture Production Agreement for local work, and in the template MEAA Offshore Production Agreement for international productions that shoot here.
The rates linked below are a draft. Please let us know if you think they are accurate, or if you think they need to be adjusted and how. Discuss it with your colleagues. Feel free to contact kelly.wood@alliance.org.au if you have any questions or feedback.
We will meet with Screen Producers Australia to discuss the inclusion of the rates in the Motion Picture Production Agreement. We believe that it is essential that these rates are treated as an enforceable minimum standard across the industry.
Your Questions Answered
What will they be used for?
The offshore rates will be included in the MEAA Offshore Production Agreement for large-budget productions. The local rates will be discussed with Screen Producers Australia with the intention of having them included in the Motion Picture Production Agreement for local film and TV productions whose budget is over a particular budget threshold.
What kind of rates are they?
The rates are 50 hour weekly rates. Some departments have different minimums for experienced and inexperienced crew. The intention is to reflect where the rates are now as closely as possible.
What about flat/buyout rates?
Some positions always have 5-day flat rates (i.e. no overtime or night loadings), some always have 50 hour rates, and some vary depending on the deal. The rule of thumb we have applied is that the flat/buyout rate is around 50% more than the minimum rate. Let us know what you think about this.
What about dailies?
Daily employees are casuals under the agreement. The minimum 10-hour daily rate can be found by dividing the weekly rate by four. The full calculation is: weekly rate divided by 55 (to get the hourly rate, factoring in OT), multiplied by 11 (to get 10 hours, factoring in OT), with the 25% casual loading on top (i.e. multiplied by 1.25).
Does this cover TVCs?
No. 
Where did you get these rates?
We asked the crew who work in those positions, or those who negotiate on their behalf (eg. Heads of Department). We also received helpful feedback and assistance from some of the Guilds. Many people have contributed their knowledge and experience.
Why are the rates lower than my normal negotiated rate?
The rates may be lower than the amount that some crew can command. The intention is to set a FLOOR – ie. an enforceable minimum rate – not to reflect the whole range of rates. Therefore the question we have asked is: "What is the minimum that someone who is competent to do this job would work for on this kind of production?". If you think the rate we have in the draft is too low (or too high) let us know.
What about increases?
MEAA's position is that, to have a sustainable industry, the rates need to be increased by the same amount as the minimum wage each year so they hold their value against the cost of living.
Can I still negotiate my rate?
We would expect that you would be able to negotiate upwards based on whether a job has particular demands, the length of the engagement, or if you have particular higher skills, experience or reputation – as you do now. But, as the rates are a minimum rate you would not negotiate down.
I think the rates/positions are wrong.
Please send your feedback about the rates – if they don't look right, what do you think they should be? If you think they are about right, we also need to know that.
What about low-budget local productions?
Some low-budget productions use the current MPPA rates or pay less than the market rates. MEAA's position is that a budget threshold should be set, below which the current MPPA would apply as a minimum. Once a production is above the threshold, the market rates would apply as a minimum.
What are the budget thresholds?
This would be negotiated with SPA. We have received some feedback on this but we need more – tell us what you think.
This all sounds great – how can I help make it happen?
1. Join your union. MEAA is a members' organisation and its power is a direct result of membership and involvement. 2. Put your hand up to be a union contact in your department. 3. Get ready to campaign in support of fair market rates for crew.
Actually, you haven't answered my question.
Send an email to kelly.wood@alliance.org.au and we'll get back to you.
Check out the draft rates schedule by clicking on your department on our Real Rates Campaign page HERE