MEAA formally complains about treatment of Manus journalist
---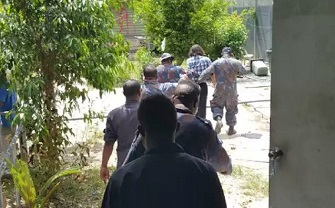 MEAA has written to the PNG and Australian prime ministers to formally complain about the singling out and specific targeting of journalist Behrouz Boochani. He was detained by PNG police in an operation at the Manus Island Regional Processing Centre yesterday.
MEAA understands that during the action by PNG police, while Boochani was in hiding, police officers repeatedly called out: "Where is the journalist? Where is the journalist?". Boochani was found and led away by two police officers. He was detained behind the Centre for at least two hours, and remained hand-cuffed and unable to use his mobile phone. Boochani says that a police commander had yelled at him: "You are reporting against us". Boochani says he was pushed several times and his belongings were broken.
It is apparent that Boochani was singled out and specifically targeted by PNG officials given that he was told: "You are reporting against us".
MEAA condemns this outrageous attack on press freedom.
The determination of police officers to find "the journalist" suggests the officers intended to disrupt and muzzle any live reporting of the activities of the PNG police while they conducted their operation inside the Centre, and that by getting a working journalist removed from the scene of the police action, media coverage of the event would be minimal.
MEAA calls on the PNG and Australian Governments to ensure that those engaged in the outrageous assault on press freedom on Manus Island be reminded of their obligations to protect journalists and working media covering important news stories on Manus Island, and observe their obligations towards freedom of expression and press freedom.
Download MEAA's letter to the two prime ministers here.