MEAA condemns News Corp cuts
---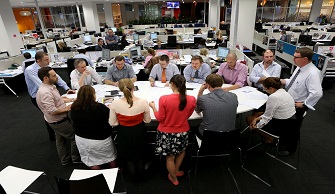 MEAA has condemned the cuts to front line editorial staff announced today at News Corp metropolitan and community titles around the country.
Photographic staff and production roles have been targeted in the cuts, which were announced at newsroom meetings with company representatives today.
In some cities, up to two-thirds of the photographic staff will be cut, although exact numbers have not yet been confirmed by the company at all sites.
Staff have been told redundant photographers will be able to freelance back for News Corp, and provide content as freelancers via photographic contractors Getty and AAP.
Management also flagged significant changes to work practices with earlier deadlines, greater copy sharing across cities and mastheads, and journalists taking up more responsibility for production elements and proofing their own work, which has journalists concerned about already stretched news gathering resources and maintaining the editorial standards of their mastheads.
MEAA has condemned the $40 million in cuts to editorial announced by News Corporation Australia last year and today's announcement.
MEAA's Media section director Katelin McInerney said: "The job redundancies that will result which will only serve to strip vital editorial talent from the company's mastheads, harm the very products that News Corp's audiences value and end up being self-defeating because of the damage they do.
"These are mastheads that pride themselves on being newspapers of the people and a voice for the communities they serve - these cuts serve no-one.
"News Corp readers and the communities that these journalists deserve better. Once again it is front line editorial staff in already stretched newsrooms - the very people audiences rely on to tell their stories - who are bearing the brunt of these short-sighted cuts for short-term shareholder gains," McInerney said.
"Time and time again we have seen that cuts to front line media staff ultimately do not deliver the kinds of savings for media companies that get them out of the woods," she said.
"Cutting the very staff who tell the stories of our society's marginalised and vulnerable - particularly those photojournalists who create the images we, as audiences, rely on to cut to the heart of an issue in a powerful, compelling and instantaneous way - has proved an ultimately futile stop-gap measure for news companies," McInerney said.
MEAA calls on News Corp not to abandon the long-term investment it has made in photographic journalism, and to work with their staff and the union to build a robust and sustainable news business for News Corp, which invests in the people telling the stories.