Listen to the Great Debate - Journalism is Dead, Long Live Journalism!
---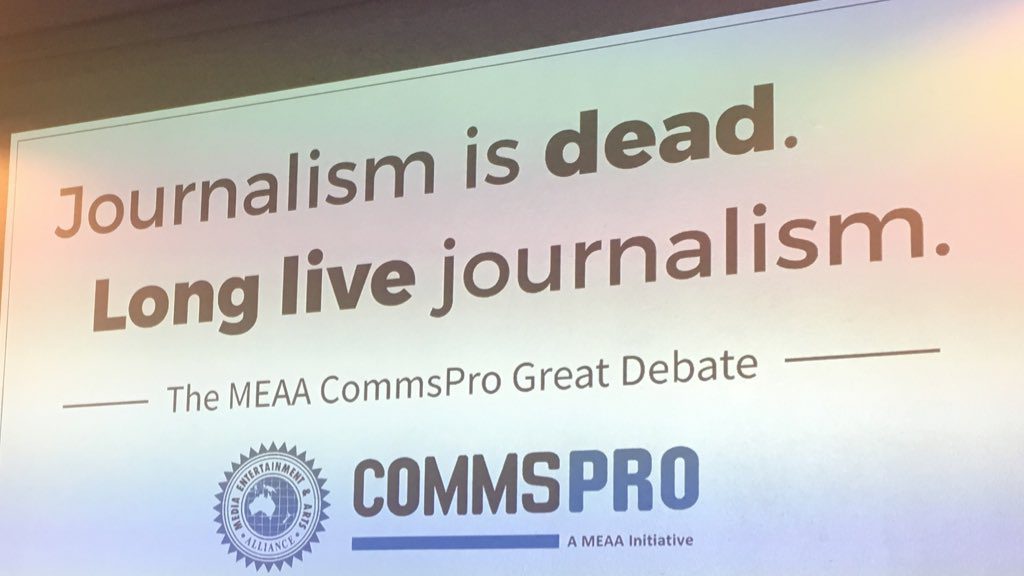 MEAA members work across the media industry, working in journalism, in public relations and as communications specialists.
On April 5, MEAA held a great debate on the future of our industry: Journalism is Dead, Long live Journalism as part of the launch of MEAA's CommsPro membership category (call MEAA Member Central on 1300 65 65 13 to find out more about this category for communications and public relations professionals).
In the current climate with journalism undergoing massive changes, this was a chance for MEAA's media section members to discuss the big issues confronting our industry in a fun and lighthearted way. What emerges from these talented members is a passionate defence of a critical craft and some timely reminders of the increasing role of communications specialists in breaking news.
We go now to our podcast. It starts with an introduction from MEAA CEO Paul Murphy.
You'll also hear from:
LJ Loch – the founder of Alpha Consult which she established after co-founding the successful REPUBLIC Consulting. She has also been a sports reporter, a political reporter, a ministerial adviser, a corporate affairs manager for an ASX top 50 company and is a regular media commentator.
Amelia Marshall – is the editor of Junkee Media's The Cusp. Prior to that she was the breakfast news reader for Triple J and before that a general reporter for ABC News. She is also a published author with her poems and short stories published in numerous literary journals.
Jonathan Harley - is the head of media partnerships at Twitter. Prior to that, he was the supervising producer for 60 Minutes and has worked in a range of media and production roles both in Australia and overseas – including as bureau chief for the ABC in south-east Asia.
Philippa McDonald - is a senior reporter at the ABC who has worked across the breadth of ABC news and current affairs programs. Among other accolades, she is the recipient of the United Nations Association Media Peace Prize for Television Current Affairs and the Donald McDonald Reuters Scholarship to Oxford University.
Peter Lewis – is the director of Essential, a public affairs and research company specialising in campaigning for progressive social and political organisations. Previously he worked as a journalist and political adviser. As well as his work at Essential, Peter is a regular media commentator on politics and is also the author of three books, two on the future of work, the other on AFL.
Marcus Strom - is the science editor at the Sydney Morning Herald. He has previously worked in a range of editorial roles for both in Australia and Britain. He is also on the board of the MEAA and has worked in senior campaigns roles for MEAA.