MEAA appalled by AIM and Warner Bros. seeking musicians to work for free
---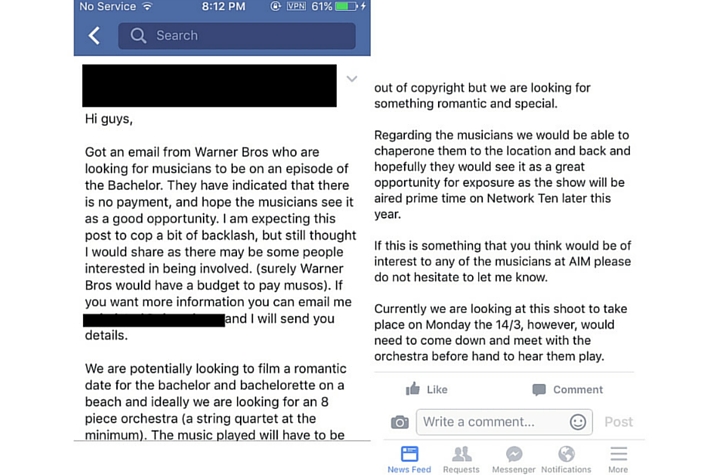 The entertainment industry has long been plagued with a culture of artists and entertainers working for free with the promise of "exposure".
Students at the Australian Institute of Music (AIM) have been encouraged by AIM to work on a reality TV show without remuneration. AIM was approached by the TV show's producer, Warner Bros., seeking musicians to work on their reality TV series "The Bachelor" shooting this month.
Despite the perceived backlash, a staffer at AIM still thought it appropriate to solicit musicians to work for free.
Mal Tulloch, director of MEAA Entertainment, Crew & Sport, said it was appalling that not only did a global media and entertainment company have the audacity to ask musicians to work without payment, even worse, an educational institution has participated in devaluing their own student's craft by passing on their request.
"We want a thriving music industry in Australia, we want an culture where artists are paid for their work and rewarded for the years of time, creativity and effort put into honing their craft." Tulloch said.
"Artists are not there to be taken advantage of. Exposure does not pay the bills. It is a profession not a hobby, and we expect musicians to be remunerated for their work."
MEAA calls on AIM to address this problem internally and automatically decline any job offers or approach for musicians to work for free.
Unfortunately, its not just musicians that are asked to work for free. In 2014, the #paythedancers campaign was sparked after a call out from US based video agency seeking Australian dancers for the newest Kylie Minogue music video to work without payment but for exposure instead.
"Working for free is rampant in this industry, we need to be supporting our artists and help build a culture of respect where they are always paid for their work." Tulloch said.