David Speers at the 2017 Press Freedom Australia dinner
---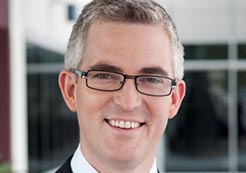 Journalists' fight against fake news and 'alternative facts' is the focus for the 2017 Press Freedom Australia dinner, to be held in Sydney on April 28.
Sky News political editor David Speers will be the guest speaker at this year's event, following in the footsteps of previous speakers including Adele Ferguson, Ross Coulthart, Kate McClymont, Nick McKenzie and Richard Baker, and Sarah Ferguson.
Speers, who won a Walkley Award in 2015 for his interview with Attorney-General George Brandis about the government's metadata laws, will ponder the impact on journalism of the new media environment created by the rise of Donald Trump.
"In an era of 'fake news', 'alternative facts' and mistrust of the media, who would want to be a political reporter?" says Speers. "The rise of Trump-ism is a game-changer for journalists, but there are great opportunities as well.
"The challenge for journalists and media organisations is to establish trust with audiences in today's fractured media landscape and political reporters in particular need to remain focused on finding the truth."
The annual Press Freedom Australia dinner — jointly presented by the Media, Entertainment & Arts Alliance,  the International Federation of Journalists Asia-Pacific and the Walkley Foundation — is one of the most prestigious annual gatherings of Australian journalists and media executives.
The event raises funds for the Media Safety and Solidarity Fund, to assist colleagues in the Asia-Pacific region through times of emergency, war and hardship. MSSF also campaigns for press freedom in the region.
The MC for this year's Press Freedom Australia dinner is Sandra Sully, Ten Eyewitness News senior journalist and editor.
Tickets are on sale now for $160 for MEAA members, media and non-profits; and $385 for all others. More information: Press Freedom Australia Dinner 2017.
Contacts
For tickets or tables: ​Melissa McAllister: melissa.mcallister@meaa.org or (07) 3846 0136
For more information: ​Mark Phillips, MEAA communications director: mark.phillips@meaa.org or 0422 009 011