'Brownie' fears for industry's survival without government support
---
Screen industry legend Ray Brown — recently honoured with a MEAA lifetime membership — talks about his career and the role that the union has played in his life.
---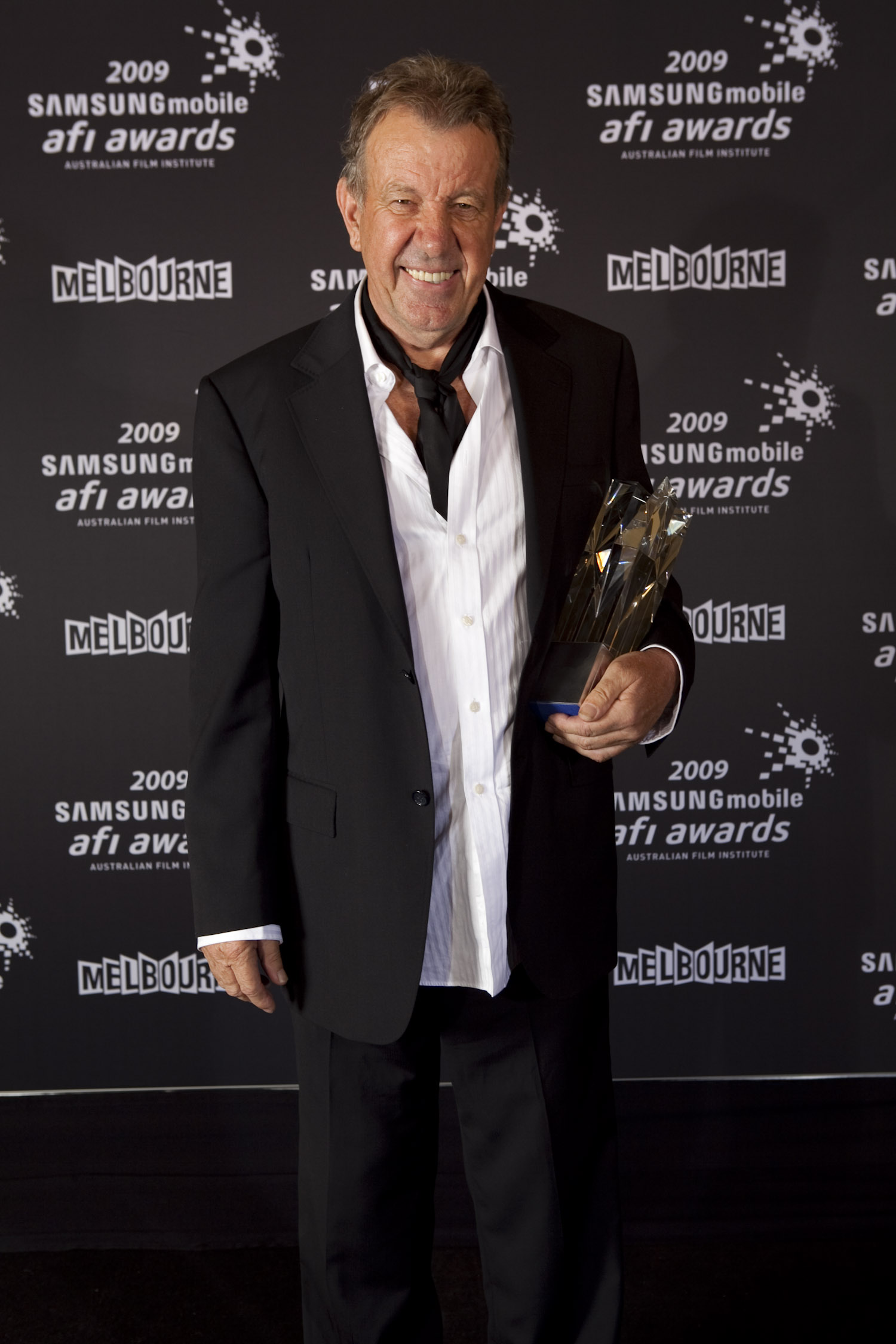 Newly-honoured MEAA lifetime member Ray Brown fears for the survival of the Australian screen industry without significant reforms to make the sector more internationally competitive.
Reflecting on his 45-year career in Australian film and television, 'Brownie' said changes to the tax incentives or offsets offered to offshore productions were essential to prevent international investment drying up.
Equally important is the introduction of a template offshore agreement with standard conditions to provide greater certainty for both screen workers and producers.
Brownie says the combination of relatively poor incentives and the absence of a template agreement are to blame for the low level of feature film activity on the horizon.
"Next year will be a vital year because will be a bit like the farmers, not everyone will survive if things don't change," he said.
"Fox Studios haven't made a movie in two-and-a-half years, and in Melbourne, if it wasn't for Eddie McGuire doing the Footy Show there, the studio would be empty.
"What we really need is for the government to lift the [location] offset back up to 30%.
"We need to get that back at all costs because New Zealand is, I think, 25, South Africa and Canada are 30, and we're still not much more than half that."
The location offset was last increased from 15% to its current 16.5% in 2011. The recently tabled report by a House of Representatives inquiry into the film and television industry recommended raising the location offset to 30%.
In the absence of a higher offset, the federal and state governments have been providing ad hoc cash incentives to lure foreign producers to shoot here.
Brown said agreement over an offshore template, for which MEAA has been campaigning for several years, would also make a material difference by establishing standard pay and working conditions at the outset so there was transparency and certainty that all overseas productions had a level playing field.
Seen it all
If anyone has authority and knowledge to speak about such issues, it is Ray Brown, who – as the key grip on films such as Newsfront, Crocodile Dundee I and II and The Matrix series – was present at the renaissance of Australia's film industry in the 1970s, its boom in the 1980s, and the emergence of Australia as a global destination for film-making in the 1990s and 2000s.
His resume as a key grip alone totals more than 50 film and television productions.
On December 11, he was honoured by MEAA's Entertainment, Crew & Sport section with a lifetime membership, along with two other screen industry veterans and long-time activists, Jenny Ward and Julie Deakins, who both received Gold Honour Badges.
Now 73, Brown retired from production work after filming of Mad Max: Fury Road in 2015, but maintains a role in the industry through his equipment hire business, Brownie Grips.
Born in Devon, Brown worked in theatre set construction in the UK before migrating to Australia in 1972. Within days of arriving he found work as a carpenter for the ABC.
"Once I got here in '72, I realised I had found bliss, heaven and paradise, and I wasn't going back [to England]," he said.
His first big break was as construction manager on the ABC series Ben Hall in 1974, which involved six months of building sets in the Megalong Valley in the Blue Mountains. They were long days, often beginning at 5.30am and not finishing until 10pm, and there was no crew catering.
Other stints as construction manager followed on the films The Picture Showman, Summerfield and Summer of Secrets, before Brown moved into gripping. His first feature as key grip was Phillip Noyce's Newsfront in 1977.
"That film kicked us off with the resurgence of Australian films and we realised we could make local stories as good as the American stuff," he said.
The following year, Brown worked on his first American feature, Blue Lagoon, and then spent a couple of years working in Hollywood, before returning to Australia as key grip on the TV mini-series A Town Like Alice.
Throughout the 1980s, Brown was key grip on just about every significant Australian feature film and TV series of that era, including Monkey Grip, The Year of Living Dangerously, Phar Lap, and Burke and Wills.
But it is Crocodile Dundee, made in 1986 and still one of the most commercially successful Australian films of all time, which remains his career highlight.
After shooting for six weeks in the Northern Territory, Brown and other key personnel were flown to New York as heads of department for scenes shot there.
The experience of working alongside American film-making veterans was an eye-opener, both in seeing the skill and speed with which they worked, but also the equipment they used. But the Americans learnt something as well.
"There was one guy in New York, a guy who had done movies with Jack Nicholson and all the big stars, and he came up to me and said, 'I had never seen a bunch of film-makers like you guys. You all take care of each other, while here in America it is so departmentalised'."
Universally popular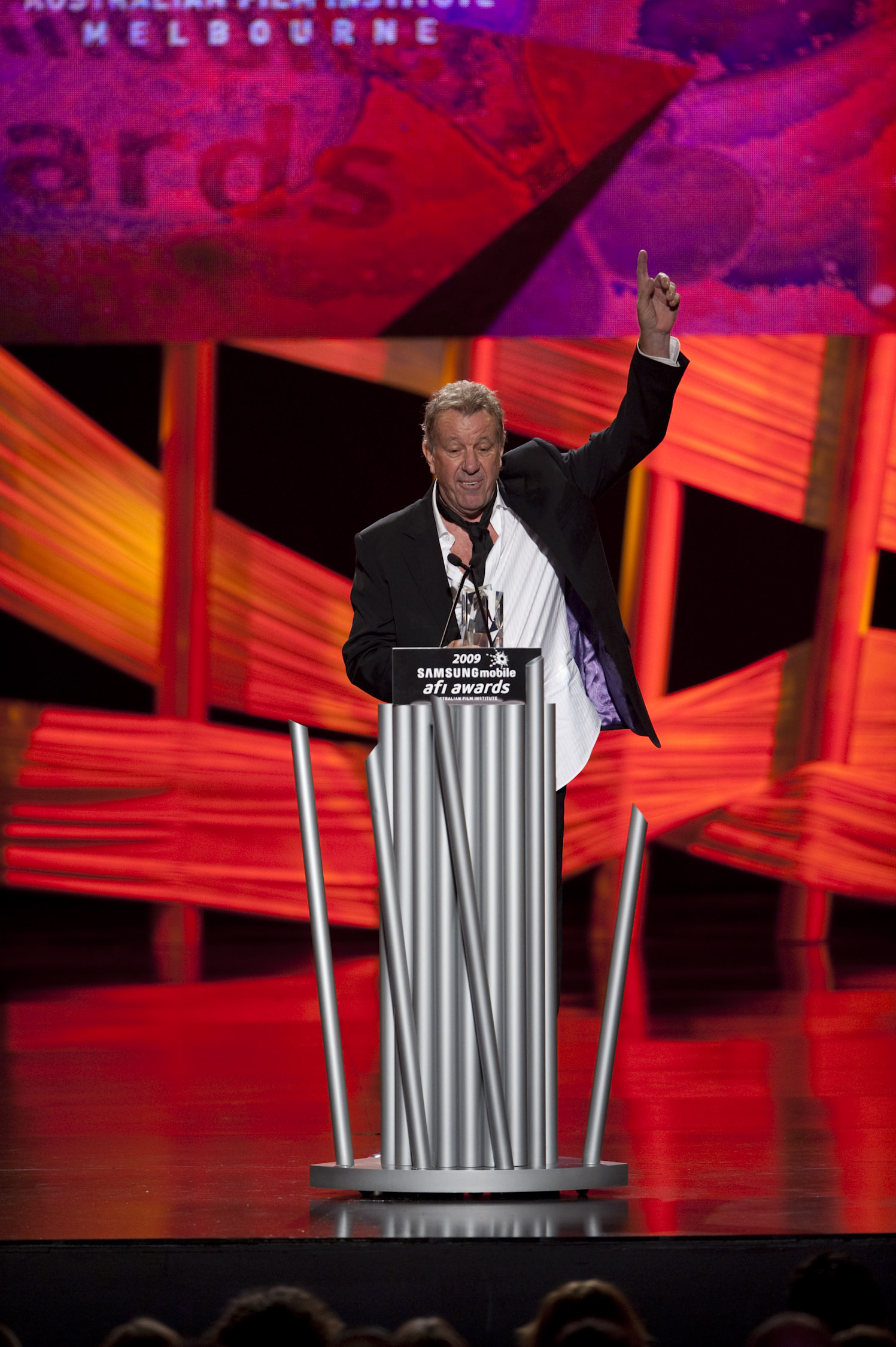 Brownie is one of those rare people whom it is hard to find anyone to say a bad word about.
"He was always a fighter for fair play and common sense application of union rules," says Gary Wilkins, an honorary member of MEAA ECS who now lives in Thailand. "I remember working with him many years ago in the 80s when he started as a carpenter and we grew up together in the film industry as it grew too."
In 2009, Brown was honoured by the Australian Film Institute with its Byron Kennedy Award (pictured).
His award citation read: "legendary grip, gentleman, statesman and unsung hero. For his superb, solution-orientated management skills, his spirited advocacy of the industry and for his full-hearted mentorship and support of movies great and small. For those who strive for excellence...Brownie is the exemplar."
Brown has also been a leader in his union for more than three decades.
In the early-1980s, he was instrumental with a small group of other members of what was then known as the Screen Technicians Association of Australia in developing the first safety code for the film industry.
He recalled that the union was small and regarded as ineffective in the late-1970s, but through tragedy became a powerful voice for screen crew.
"We lost 10 guys [killed] in 16 months in 82-83 and we were totally rattled by losing that many guys. Out of the ashes came the rebuilding [of the union].
"We met every second Wednesday after work upstairs in [the union offices in] Glebe Point Road to thrash it out and the union helped to transmit what we wanted as a safety code to the producers, such as a 10-hour turnaround.
"In your union life it's very hard to say you're proud of things – I would rather say out of a tragedy we got some benefit for the younger guys today, where we've still got those safety rules in place."
Brown's other career highlight is The Matrix series in the late-1990s, which were the first films to be made at Fox Studios in Sydney. He said the massive budget, the scale of the sets, and the complexity of the special effects and stunts created numerous pressures on the crew, which the union helped to resolve.
A challenge was to hold the ground on the 10-hour turnaround when the producers had wanted to reduce it to eight hours, as is the practice in Hollywood.
"They actually offered to buy us out, to give us extraordinary amounts of money to buy us out as a penalty. And we come up with a simple slogan that our 10-hour day is not for sale. And we went forward and made the movie and the last point on that one was, all the American crew came to us and said thank God you turned it down, we prefer the 10-hour day… so that was kind of an endorsement of a collective group not just the crew we decided that we didn't want to sell out our eight-hour day."
Brown says the biggest obstacle the union faced back in the early-1980s and still today is apathy from screen workers who do not understand how the conditions they now enjoy were not won without struggle. He urges younger workers to get involved with the union for their own future.
"I always preach to all the guys I employ that it's my preference that they join the union and the benefits they will receive. We preach to them about the guys who died and how the union helped us put the 14-point safety code together which has stood the test of time."
* Some quotes in this article come from an interview with Ray Brown filmed by James Ford in 2016.