Jenny finds her niche in the editing suite
---
As well as one of the best sound editors in Australia, Jenny Ward has been a long-term advocate for her union and her industry, for which she is to be awarded a MEAA Gold Honour Badge.
---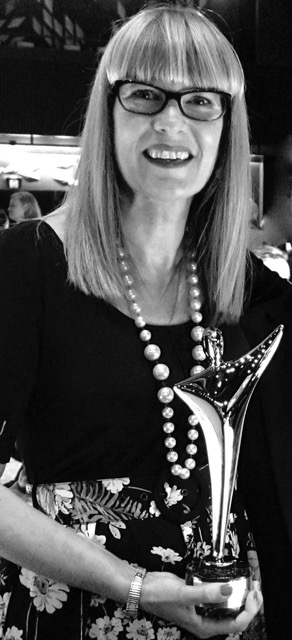 Early in her career in the screen industry, Jenny Ward realised that the controlled chaos of a film set was not for her.
She concluded she was more at home in the slightly more sedate environment of an editing suite. And that is where Jenny has spent the subsequent decades as one of Australia's leading sound editors and a stalwart of the Entertainment, Crew & Sport Section of MEAA.
Jenny was one of three industry veterans honoured by MEAA on December 11. She was presented with a Gold Honour Badge, as was Julie Deakins, while Ray Brown received life membership.
Jenny admits to being humbled to find herself in such company.
"I was shocked and flabbergasted and thought they'd made a mistake," she says of her reaction when first told she would be receiving the badge.
"But it's lovely to have that volunteer work and all that energy and time acknowledged."
Since beginning in the industry in the early-1980s, Jenny has gathered awards as a sound editor, been an activist for MEAA, and co-founded the Australian Screen Editors Guild.
She got her start as a production assistant on SBS's first drama series City West in 1984. Other production jobs followed while Jenny studied film-making.
"I did a six-week course at the University of NSW, and the most exciting part of that process was being in the editing suite," she says.
"I found being on the shoot to be haphazard and chaotic, but the editing suite was where the story came together and you can manipulate the film to make it better. That's where I got excited.
"If you've been on set before, there's a lot of hierarchy and the sound recordist has to put up with a lot of crap. I'm just not built that way and would not have survived. But in post-production, and sound post-production in particular, there's a great camaraderie to make the film the best it can be, and that's where I felt at home."
Jenny has worked on the sound for about 40 feature-length productions, first as an assistant and then as an editor. She has worked on three features which have received AFI awards for sound editing – Kiss Or Kill (1997), In A Savage Land (1999) and The Great Gatsby (2014) – and was part of the Academy Award-winning crew who won Best Sound for King Kong (2006).
A career highlight was working with director Peter Weir on The Way Back, (2009) which she fondly remembers as a democratic and collaborative production.
"Peter was there for the 1970s rebirth of Australian cinema, and to have worked with someone of that calibre who was also very humble but absolutely knew what he wanted and was world class, that was an exciting time.
"The respect and appreciation he showed to us was quite extraordinary – to a level that's never been replicated."
Having started in the industry doing odd production jobs, including production accounting, Jenny's advice to any young screen workers is to use every opportunity to learn and gain experience.
"Be grateful, humble and respectful; listen a lot; don't think you know everything – just listen and absorb and observe, and hopefully you can make a career out of it," she says.
---
"I couldn't recommend being a [MEAA] member highly enough for the support they provide in difficult times but also for the health and wellbeing of the industry and everyone in it."
---
Jenny's relationship with MEAA began in the mid-1990s, when she got involved in the campaign over the first Fox Studios agreement. She recalls volunteering to be a post-production representative on the consultative committee after attending an industry meeting at the Bondi Diggers Club, where one of the speakers was Ray Brown, who will be honoured alongside her on December 11.
She was an active committee member of the Screen Technicians Association of Australia arm of MEAA for 10 years and served as MEAA's NSW Branch Vice-President for 11 years, ensuring post-production had a voice.
While she may have stepped back from active involvement, her belief in the power of the union remains strong.
"It's only through being part of a group that change can come," she said.
"As individuals, it's very hard to stand up for what's right and you need the support of your colleagues in order to have the courage to bring about change. It can happen, and sometimes does, on an individual level, but it's so much easier if you can share the load and have that support… I couldn't recommend being a member highly enough for the support they provide in difficult times but also for the health and wellbeing of the industry and everyone in it."
In 1995, Jenny co-founded the Australian Screen Editors guild (ASE) with Henry Dangar, and she was instrumental in the re-invigoration of the Australian Screen Sound Guild (ASSG) where she served as Secretary until she resigned a few years ago when invited to become a councillor on the Motion Picture Industry Benevolent Society (MPIBS).
The MPIBS has become a real focus for Jenny as she endeavours to raise the profile of Australia's only charity for cinema workers (including production and post-production crew) and in turn raise money for her colleagues, old and young, who need support.
In addition to her AFI and Academy awards, Jenny has also received recognition from her sound editing peers with four Australian Screen Sound Guild awards and over 25 Australian and international nominations.
In 2014, the NSW branch of the Society of Cinema Pioneers named Jenny NSW Pioneer of the Year for her efforts raising the profile of the MPIBS, and in 2016 the ASE bestowed an Honorary Lifetime Membership on her.
"[The best thing about the industry is] definitely the people," she says.
"You will find that in post-production, they're a particular type of person, very collaborative, respectful and engaged and there's not too many egos. The hierarchy is very flat and you're all making an equal contribution. It's really an amazing feeling when you're all on the same ship, going in the same direction and you've all got your eye on the outcome to make the film as great as you can."