Balibo Five's memory lives on in journalism scholarship
---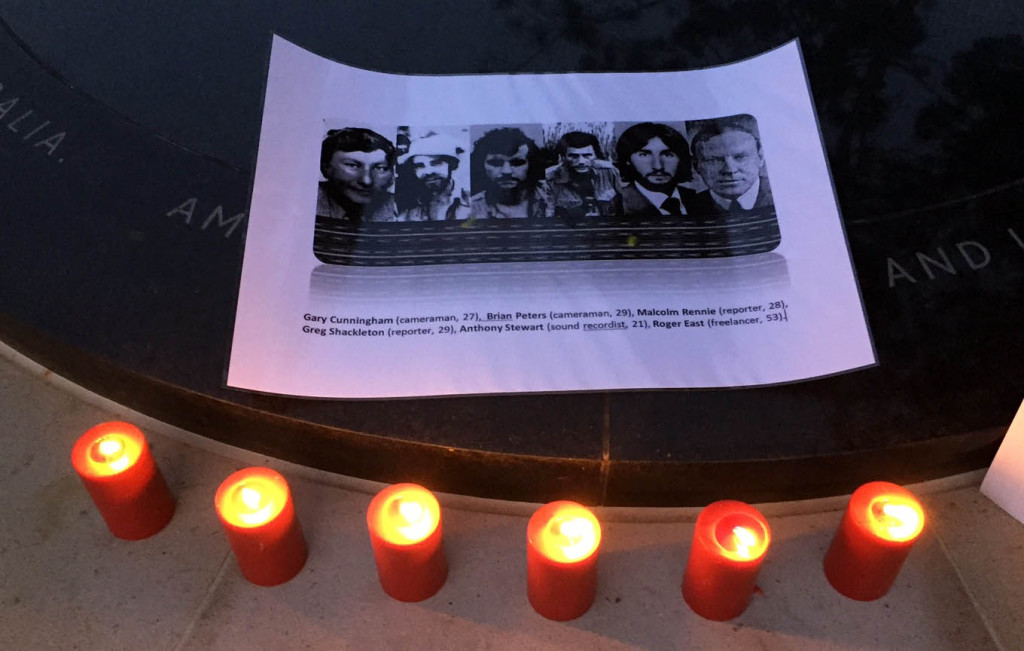 East Timorese journalists will have an opportunity to build their skills. 
Exactly 40 years after they were murdered by Indonesian troops, the Balibo Five were remembered with ceremonies in two cities and the announcement of a perpetual scholarship in their name.
Five young journalists working for Australia's Seven and Nine networks – reporter Greg Shackleton, camera operator Gary Cunningham, sound recordist Tony Stewart (all from Seven), reporter Malcolm Rennie and camera operator Brian Peters (both from Nine) – were killed in the village of Balibo after witnessing an incursion by Indonesian soldiers on 16 October 1975.
Their killers have never been brought to justice.
Memorial services were held in Canberra and Melbourne on the 40th anniversary of the killings, with MEAA playing a part in both.
A moving dawn service was held at the new War Correspondents' Memorial in Canberra, attended by Greg Shackleton's widow, Shirley, Tony Stewart's brother, Paul, and Gary Cunningham's son, John Milkins.
Senior Press Gallery correspondents from the Seven and Nine networks also paid tribute, while Walkley Trustees chairman Quentin Dempster represented MEAA.
The service also remembered Roger East, a stringer for AAP and the ABC, who was executed by Indonesian forces in Dili on 8 December 1975.
Later that day at the St Kilda Botanical Gardens in Melbourne, members of the Stewart family planted a tree in memory of 21-year-old Tony Stewart.
Veteran television journalists and newsreader Mal Walden spoke movingly of his friendship with the three Melbourne-based Channel Seven reporters who he last saw a week before their deaths.
Walden recalled a frantic phone call from Greg Shackleton's mother on the night of 15 October, when she described premonition of her son's death. And he described the emotional scenes in the Seven newsroom the next day when a message came through that their three colleagues had been killed.
Despite compelling evidence and a 2007 NSW coroner's finding that they had been deliberately targeted and killed, no-one has been prosecuted for the Balibo deaths.
Last year, the Australian Federal Police announced it would be closing its investigation.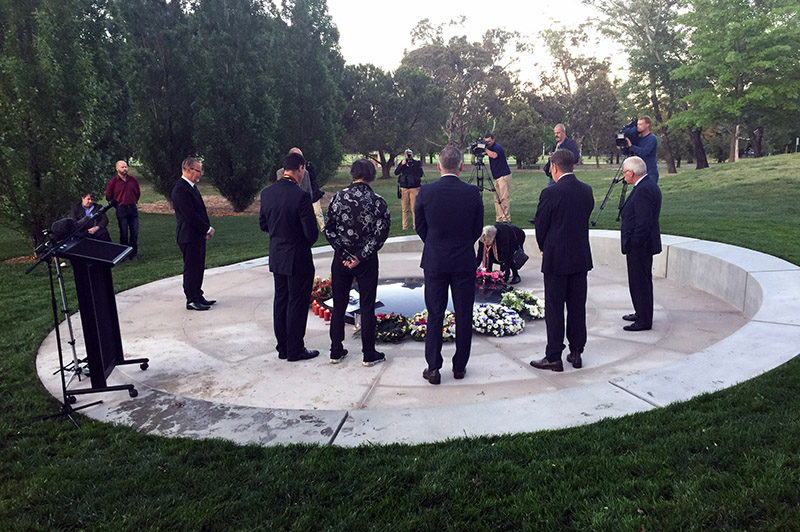 In a statement issued on the 40th anniversary, MEAA chief executive officer Paul Murphy renewed calls for a full and proper war crimes investigation.
"The five journalists were upholding their profession's finest traditions in reporting to the rest of the world the threat of invasion of East Timor," Murphy said.
"The 2007 coronial inquest found that the five journalists were deliberately murdered by members of the Indonesian special forces under instructions from high command, but four decades later no-one has faced justice – an appalling example of impunity over the killing of journalists. Quite literally, those responsible have got away with murder for 40 years."
MEAA will honour the memory of the Balibo Five and Roger East with a new scholarship in their name.
It will sponsor travel, study expenses and living costs for East Timorese journalists to develop skills and training in Australia.
It is anticipated that their studies would be short courses at major Australian journalism schools, and MEAA will also seek to facilitate short work placements in print or broadcast newsrooms.
"We believe a practical program like this is the most appropriate way for our union to honour and commemorate the Balibo Five and Roger East," Murphy said.
"A little over a decade since East Timor became an independent sovereign state, press freedom is still fragile and there are few formal structures to develop journalism skills.
"By providing a scholarship for journalists from East Timor to study and spend time with experienced Australian journalists, we hope that we can help build a strong free press there."
It is expected that the first recipient of the scholarship will be some time in 2016.