ACCC decision a blow for WA
---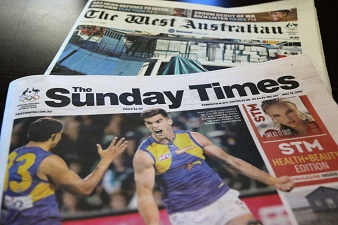 The Media, Entertainment & Arts Alliance (MEAA), the union and industry advocate for Australia's journalists, is disappointed at the decision of the Australian Competition and Consumer Commission (ACCC) to allow the sale of News Corp Australia's Sunday Times and PerthNow to Kerry Stokes' Seven West Media (SWM), owner of The West Australian.
As MEAA's WA Media section outlined in its submission to the ACCC, the sale will "make Perth a 'one-newspaper' town. By its very nature, the sale will lessen competition. We believe readers will suffer from a reduction in the quality of content, perhaps in both print publications, if staffing levels are reduced and journalists, photographers and artists have to do more with less (something that is already happening across the media industry). The proposed transaction [will] create business and media power in WA that is not replicated in any other part of Australia."
MEAA is concerned that this sale will put incredible power in the hands of one mogul, Kerry Stokes, whose business interests in WA extend far beyond the media. SWM shareholders and senior executives are also heavily involved in the Perth business scene at large and in dealings with the State Government. These dealings not only involve the customary regulatory approval and lobbying that is normal business practice, but also include attempts to acquire significant assets or significant contractual benefits through those dealings with the State Government. There is an obviously greater potential for problems in objectively reporting or analysing these business activities, especially involving government, when that same group controls all the daily newspapers in town.
MEAA said the mood at The Sunday Times is sombre. MEAA's WA regional director Tiffany Venning said: "While members are not surprised, they are deeply disappointed with the decision. Given that there were already 37 editorial jobs lost at The West Australian prior to this transaction being approved, there is considerable concern for staff at Sunday Times and PerthNow."
MEAA has written to both companies calling on them to engage in close consultation with editorial employees and their union.
It is anticipated that there will be editorial job losses that will mean that there are "fewer boots on the ground" to cover local news stories that are important to the West Australian community. The lack of competition and diversity in the WA media market means the whole community will suffer. MEAA urges Seven West Media to urgently adopt a charter of editorial independence across all its media business and to explore opportunities for staff to be redeployed to other editorial areas.
Contact: Tiffany Venning, MEAA WA regional director 0403 440 266