Vote of no confidence in News Corp management
---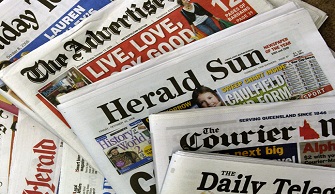 This resolution was carried unanimously by News Corp editorial staff in Brisbane at a meeting today:
"This meeting of editorial employees in Brisbane moves a Vote of No Confidence in senior national News Corp management. 
Yesterday (April 11) staff were told there would be a restructure of the business, including photography and production, that would result in significant numbers of staff being made redundant. 
Staff at Bowen Hills question senior national management's ability to build an economically viable company. 
Management's continuing answer to economic pressures is to reduce staff numbers and jeopardise the quality of the product. 
On a daily basis we see our masthead's paywall breached by news.com.au and other News Corp mastheads. 
We are yet to see any business innovation that turns the online model into a paying model and believe senior management needs to identify to staff the business plan to increase revenue beyond staff cost cutting.
Our decision today is made on behalf of our communities. We are prepared to work differently, learn news skills and to be innovative but not at the cost of quality or our own health. 
Our readers rely on the work of our photographers to tell the story in pictures that define the story. They rely on the work of our production staff, artists, subs, designers to ensure the story is delivered accurately and across a variety of mediums.
We are appalled that across Queensland we have worked to build our online presence and connect to our markets but we are still unable to maintain a paywall or deliver papers in some regional areas before 11am. 
Senior News Corp management needs to be held accountable for its poor business decisions, lack of vision and inability to consult with their employees. 
We call on management to engage in constructive consultation with staff that includes a full understanding of the business model and allows for real feedback on areas where the model is failing. 
We call on management to commence this consultation before any decision to further downsize editorial staff numbers is enacted. 
We call on management for a response by Wednesday, April 19  2017."
Carried unanimously.