Spotlight on Alex Talamo
---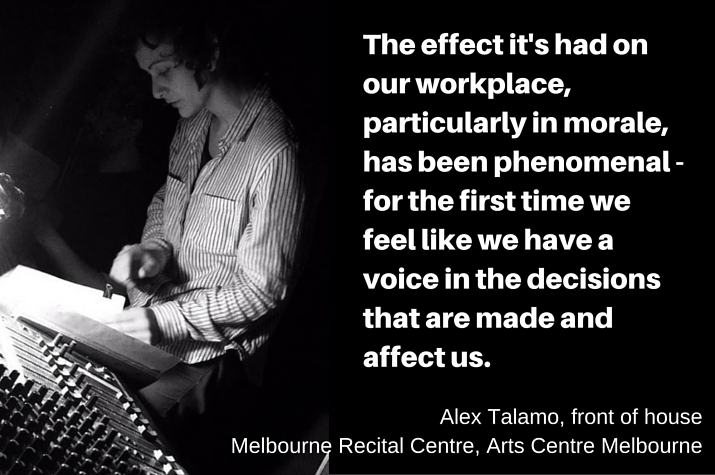 Proud MEAA member and delegate Alex Talamo, works the front of house for both the Melbourne Recital Centre and Arts Centre Melbourne and is a theatre director in her spare time. She chats to MEAA about the importance of networking in the arts, building support from her community, career highlights and how being a MEAA member has changed her working life.
What is your role and how does it differ from venue to venue?
I am a union delegate for the front of house staff at the Melbourne Recital Centre and a union member at Arts Centre Melbourne. In both jobs I work in the front of house department, I run tours, lead a team of staff and help audiences have a great time in our venues.
Take us through a full day for you at Melbourne Recital Centre and/or Melbourne Arts Centre.
No two days are the same - the Recital Centre rarely has a performance season that lasts more than two nights, and the Arts Centre has so many venues that I am always fulfilling a different role. Typically though there is a briefing at the start of a shift, the staff are given background information on the concert or performance, we are told about any special requirements of the presenters, visitors who may need access assistance, and then we are assigned areas of responsibility. Once in position, we are on radio to support each other in the event of emergencies or to alert staff to someone needing assistance.
How did you get your start in the industry?
I've always worked in the arts, my first job was in a costume shop that rented ex-opera costumes and when I'm not at the Recital Centre or Arts Centre I'm a theatre director, so have spent most of my life inside theatre venues.
What are some of your career highlights?
I was an Australian delegate to the Montreal International Circus Festival through the Australian Circus and Physical Theatre Association, which was incredible because I was in the room with so many passionate people from all over the world who were interested not only in the arts, but in the intersection of the arts with building strong communities, environmental responsibilities, de-colonisation and race. They weren't only talking about the complexities of making great work and advocating for artists and arts industry workers, but they were showcasing some of their ingenious initiatives to address this issues. Inspiring stuff. Reminds you that there are people working everywhere towards these issues.
What would be your advice for people wanting to get into the industry?
The arts industry? Make sure you build a strong community around you. You need systems of support that can help you get through the highs and lows of the arts industry, which is infinitely more unstable than most other industries.
What is one thing you wish you knew before you started?
The importance of a strong network locally and internationally - there's a huge amount of work already been done, you don't have to solve everything from scratch.
Why is being a MEAA member important to you?
It's an incredible resource, and provides a place for the community to gather, organise and work towards better systems, conditions and experience for everyone. The effect it's had on our workplace, particularly in morale, has been phenomenal - for the first time we feel like we have a voice in the decisions that are made and affect us.