Spotlight on Geoff Tarr
---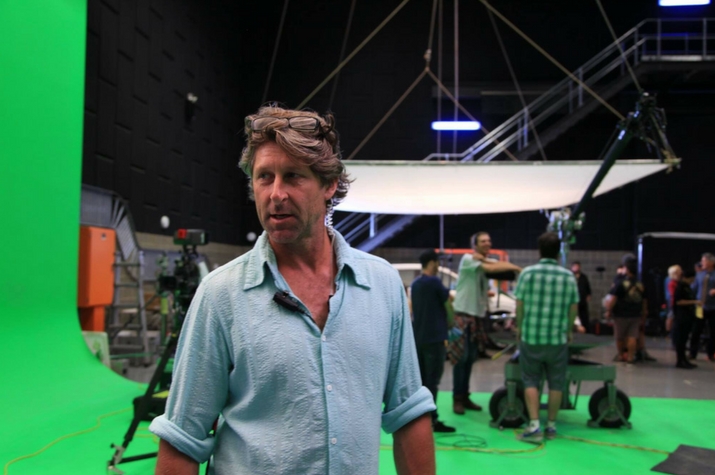 Geoff Tarr started off his career as a ceramicist until he started helping a local film's art department and never looked back. Since then, he's "whacked" Russell Crowe, played with vomit, blood squirts and even donned a grizzly bear costume to get an appropriate reaction. He chats to MEAA about how experience in the industry is key, and why it's important to be a MEAA member.
Explain the role of 'standby props'?
Over the years I've been asked many times exactly what is my job and to be quite honest, I often wonder myself. I explain my job as one who takes care of the props (or property) and this is anything that not only is handled, or comes into contact with actors but also part of the scene's environment for example, a campfire, a breeze through an open window or cleaning up vehicle tracks when you're on the set of a period film that pre-dates cars. Standby props manage and generally embellish practically everything that is in the camera's frame (that our art department has tirelessly created).
Film making reflects life and our imaginations, so the sets that you work upon are incredibly diverse. This diversity can be pretty frustrating at times because you never really perfect anything and you cannot simply know about every little gadget, furniture piece, cultural symbol or architectural fitting but you research it (if time allows), and you develop a kind of modus operandi and you give it your best shot. One minute you're splashing mud around and the next you're handling a delicate and invaluable prop, so it's challenging but colourful.
Take us through a full day for you on set.
Depending upon my day ahead, I arrive about 30 mins before crew call to park up my truck, unload my kit and prep my hand props for the day. It's then about being settled and set for the upcoming scene before the 'block through' of the first scene. As we block/rehearse I also get to plan and organise my props and set 'resets' along with any other issues relating to the set and then it's all go! Once, we've completed the wide/master shot I then have to also start considering my plan and prep for the next scene along with coming back and 'mopping up' previous scenes. At sometime during the day I'll need to meet and receive a 'hand-over' from the props master for the next day or so's props. After camera wrap is called, another 30 mins or so more is then needed to pack and clean up and generally take stock.
How did you get your start in the industry?
By providence or fate, not really sure, it depends how I feel on the day. I had always been interested in film but I had no idea what careers existed let alone how to access them.
I was living and working at my parents business in remote South Australia at the time taking a break from my previous profession as a ceramicist/potter and a production turned up to film there. I started helping the art department and I was pretty intrigued by it all. They offered me a job and I took it. After a couple of years of plugging away in various art department positions in Sydney/Melbourne, I did an SA Film Corp attachment on "McLeod's Daughters" and that led to a solid eight years in the position and the best training you could get in standby props. I got to work with some of the best talents from all over Australia within the Film/TV Industry.
What are some of your career highlights?
Generally speaking, getting to work alongside some amazing talented people cast and crew. Specifically, couple of things tend to stand out. Like getting to whack Russell Crowe in the head for six takes and then having him thank me for not holding back! Or, putting on an actual grizzly bear hide and scaring kids in a scene on Sam Fox or doing the many blood squirts or body part flicks and massive projectile vomits into shot for all of the Wolf Creek films, Road Train and Babadook and giggling as you're doing it because there's no NIDA course for that!
What advice do you have for people wanting to work in film/TV?
These positions I believe, are 90% on the job training and this needs to be considered carefully because you need to initially be willing to spend many hours/weeks/months of learning and working hard with a good 'not precious' attitude. A good position will be offered and when you get it, tenaciously hold it with pride and apply yourself with passion just like any other job in life and expect to be paid fairly for your hard work.
Why is being a MEAA member important to you?
I've always believed that rights and privileges can only come after first exercising responsibility. I view that 'responsibility' as being a member of the MEAA.
I hear so many people question membership because all they want is something back for their money. It's not that simple, we are like a family. It's an alliance of people who are working together to create a healthy and sustainable arts industry and this involves a lot of cost and time and I consider my membership fee directly contributing to this.
My membership provides me with a stronger sense of industry identity and connectivity and it's my small way of helping to preserve and maintain a viable and talented Australian film industry.