Farewell message to Weekly Review staff
---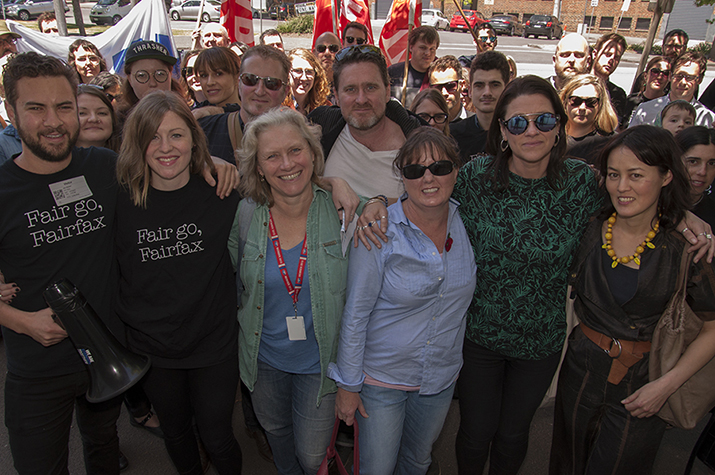 The following remarks were made by Carolyn Dunbar, MEAA Victoria & Tasmania regional director, at farewell event for editorial staff of the Weekly Review on their last day before redundancy:
Today we are here to show our support for our 22 colleagues who are finishing employment for MMP through no fault of their own, but as the result of a mindless management culture of cost-cutting.
We pay tribute to these journalists, editors, sub-editors, designers and photographers for the dignity with which they have conducted themselves in recent weeks and for their contributions to journalism over the years – particularly in the face of a botched and insensitive redundancy process by management.
MEAA has good reason to believe that the forced redundancies at MMP are part of a deliberate strategy by the company to "de-unionise" its workforce.
We condemn the deliberate targeting of union members and the poor way in which management at MMP has handled this entire process, which added to the distress of the affected workers.
But there is another reason why what has happened at MMP should concern us all, and it's to do with the slow decline of local, grassroots news reporting.
The Weekly Review stable of papers was formed from the ashes of what was once known as the Fairfax Community Network or for those of us with an even longer memory, Syme Community Newspapers.
This was once a strong suburban newspaper network to rival Leader with proud mastheads like the Dandenong Journal, the Footscray Mail and the Werribee Banner.
They covered and informed every aspect of their communities: local sport, crime, schools, arts, business, wedding anniversaries, cracks in a neighbourhood footpath – not always the most glamorous of stories, but the lifeblood of communities.
They were also great starting points for young journalists to learn the tools of their trade in an environment where they had exposure to any manner of subjects and issues.
Many of Australia's best-known journalists, including multiple award winners, cut their teeth in suburban newspapers, while many other fine journalists have loyally built their careers in local papers.
But over the past decade, these newspapers suffered from a lack of investment and renewal – some were closed down, others merged or sold to new owners.
Under the current management, the Weekly Review has now all but abandoned that grassroots local reporting, and that is a great loss for the communities in which they are distributed.
We all understand that real estate and property advertising is the main source of revenue for the MMP newspapers, and it has always been that way for suburban newspapers.
But we reject the way in which MMP has abandoned independent local journalism in pursuing its current strategy.
MEAA is concerned about a growing crisis in Victoria's media, so while today we farewell colleagues from MMP and wish them all the best in the next stages of their careers, we also redouble our commitment to fight for strong, independent local journalism