Docklands Studios expansion a game changer for Victoria's screen industry
---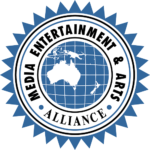 Government investment of $46 million in Docklands Studios Melbourne is a show of faith in the future of the state's film industry and will create hundreds of jobs, says the union for screen crew and performers.
The Media, Entertainment & Arts Alliance welcomes the commitment from the Victorian government to expand the studios with the addition of an extra 3700 square metre sound stage.
MEAA Victorian Regional Director Adam Portelli said this investment, along with the announcement that Dick Cook Studios would be permanently based in the precinct, would help secure the long-term sustainability of the Victorian film and television industry.
"This is a massive show of faith in the Victorian industry," Mr Portelli said.
"It is a testament to the professionalism of Victorian screen professionals and will help Melbourne and Victoria to compete globally for big-scale productions which will in turn create hundreds of jobs.
"Production of the US television series Preacher wrapped up recently while Shantaram and Clickbait will start filming soon. This new sound stage will be a real game changer."
Mr Portelli said the commencement of the first two productions by Dick Cook Studios – Ranger's Apprentice and The Alchemyst – would support hundreds of Victorian jobs in crew and both pre- and post-production.
Mr Portelli said the federal government could further secure Australia's screen industry by updating tax offsets and other incentives to attract private investment in Australian film-making, and introducing new content regulations to ensure new and diverse Australian stories are shown on every platform.

583.71 KB 15 downloads
Last update: October 21, 2019