Spotlight on Sheldon Wade
---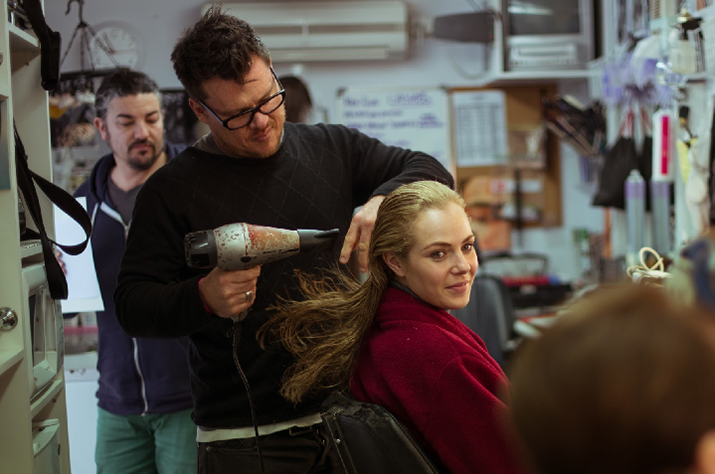 Sheldon Wade recently won accolades for his make-up work which transformed actor Richard Roxburgh to a spitting image of corrupt ex-detective Roger Rogerson for the telemovie, Blue Murder: Killer Cop. He talks about his career in film and TV and why he's a MEAA member.
---
What does your job entail?
Lots of research sometimes for each job, lots of notes, breaking down of scripts, working closely with the director, producers and actors. And lots of hours. I'm constantly keeping up to date with newest products, ideas, techniques, and design ideas in relation to my field and knowing how something was created using old techniques for different period looks.
How long have you been working in the industry, and how did you get your start?
I started out in film and TV in 1990. Prior to that I was working as a hairdresser trying to make my way in fashion. I had just finished studying make-up for a year when I moved into a house in Darlinghurst and one of my new flatmates was working at the ABC at Gore Hill and told me of a possible job going there. So I rang them and went in for an interview and ended up working for them full-time for three years and so it went from there. Later on, I studied prosthetics for a year to help widen my range of work capability.
What does a typical day or week for you look like?
A typical day for me involves looking through the scenes that are shooting that day, making notes about what's happening in each scene from the script breakdown and then having meetings with the make-up team to discuss how the day's going to unfold and then assign everyone with their tasks. This is all before we get the cast in for make-up. Once the actors are done, I'll either follow them onto set and stay there while they film, or stay on the bus to make-up other actors while I'm preparing for the coming days ahead.
What is the best thing about your job?
Creating — or recreating in some circumstances — telling stories in a visual way. I love researching times and events in history. It's great to collaborate with others to come up with something creative.
What have been the highlights of your career so far?
I feel like there's been so many. One of them is the chance to work with so many great actors, some being people I idolised as a child. Not that I would have told them that!
What is the biggest challenge you face working in this sector?
Will there be a job for me after I finish this one? Is this industry sustainable for me in the future? This isn't a hobby that I'll be tired of in a year or two. This is my career, my life.
What would be your advice to people wanting to get into the industry?
Get your head down, work hard, listen carefully and give it 120%. Get out there and ask if you can assist someone. Work experience leads to work.
Why is it important to be a member of the MEAA?
I'm a MEAA member because they are there for me looking after my rights as a freelance worker, conditions and wages that seem to be always under threat.