Beth needs your support
---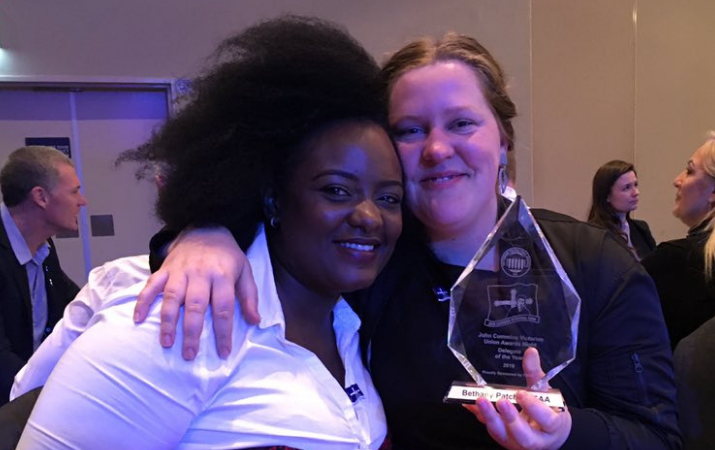 MEAA Media member Beth Patch has been named the Victorian Trades Hall Council's union delegate of the year.
Beth was honoured with the award at the annual John Cummins Memorial Dinner on Friday, August 30.
But her joy at winning the award has been overshadowed by a first and final warning from her employer related to her union activities.
Beth is an editor at Penguin Random House Australia and is at the forefront of negotiations for the book publishing industry's first collective agreement.
When retail workers in bookshops faced a pay cut due to the reduction in weekend penalty rates at the start of the new financial year in July, Beth organised some of her colleagues to pose for a photo that she tweeted in support of booksellers.
But for that tweet, Beth was hit with a first and final warning from her employer. Penguin have refused to withdraw the warning, which MEAA says amounts to adverse action – so on Tuesday, September 3, the union represented Beth in the Fair Work Commission for a conciliation hearing with her employer.
MEAA is seeking to have the warning withdrawn. Victoria and Tasmania regional director Adam Portelli says the warning was "outrageous and discriminatory".
"Beth is everything you want from a union delegate: she is passionate, committed and cares deeply about her workplace and her industry," Mr Portelli says.
"We need to send a strong message to all employers that we won't stand by and let our colleagues be bullied or threatened simply for exercising their democratic rights as union members."
A Megaphone petition in support of Beth has almost 3000 signatures, and Beth has attracted widespread encouragement from across the publishing industry.