MEAA submission to the Senate Inquiry into Media Diversity
---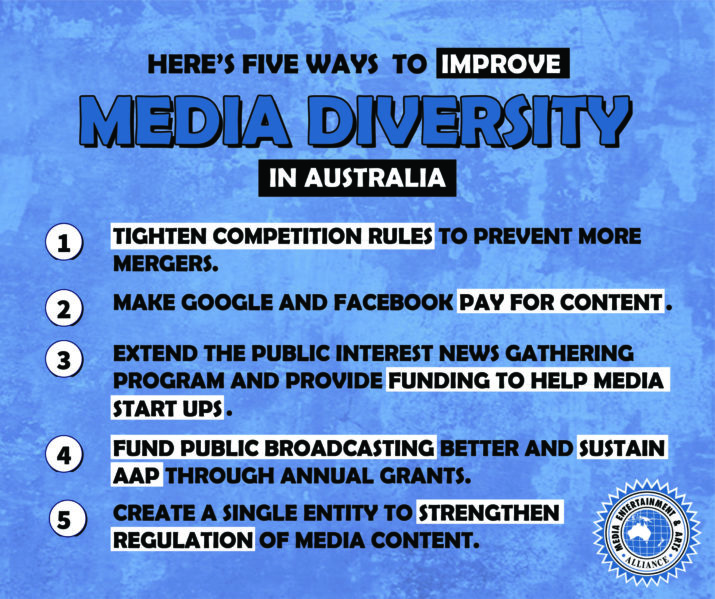 This is MEAA's submission to the Senate Standing Committee on Environment and Communications Inquiry into Media Diversity in Australia.
MEAA views this inquiry as an important means to creating a more diverse and open media sector, rebuilding trust, and creating a sustainable and ethical sector that benefits all of those involved – consumers, journalists, advertisers, owners.
In this submission, MEAA calls for:
•  Amend competition and other laws to prevent mergers that lead to more harmful levels of media concentration.
•  The Australian Government must urgently progress the Mandatory News Media Bargaining Code and extend the operation of the Public Interest News Gathering program[1].
•  The Australian Government should review and adapt critical measures recommended in the United Kingdom and Canada such as: directly funding local news; offering taxation rebates and incentives; and part-funding editorial positions.
•  Government assistance should be reset to ensure funding is available for new media organisations, as well as traditional media companies.
•  Public Broadcasters must be funded in a way that acknowledges the need to provide comprehensive, high-quality cross-platform media content in all parts of Australia.
•  AAP's future should be sustained through regular, annual relief grants.
•  Regulation of media content should be strengthened and overseen by a single entity.

825.45 KB 304 downloads
Last update: January 19, 2021