International Federation of Journalists' report - The Ampatuan Massacre Five Years On
---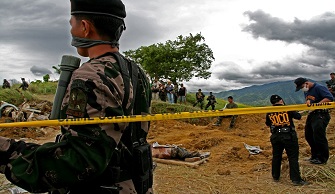 The November 23, 2009 massacre saw 32 journalists murdered in the largest single atrocity committed against the profession.
In 2014, a joint IFJ/NUJP/MEAA mission examined why the Philippines' culture of impunity continues to deny justice to victims of the targeted killings of journalists, and why so many suspects in the Ampatuan case remain at large. 
Photo: Nonoy Espina, National Union of Journalists of the Philippines

On November 23, 2009, the Philippines showed to the world in the most horrific way what impunity looks like. The slaughter of 58 people – including 32 journalists – in an "unprecedented act of political violence" in Southern Mindanao was, and is, the single biggest killing of media workers in history.
This is the report of the International Federation of Journalists' international solidarity mission examining the Philippine Government's progress in the investigation into the Ampatuan Massacre.
6.92 MB 81 downloads
Last update: November 22, 2021