Actors and crew deliver #saveourstories petition to Parliament
---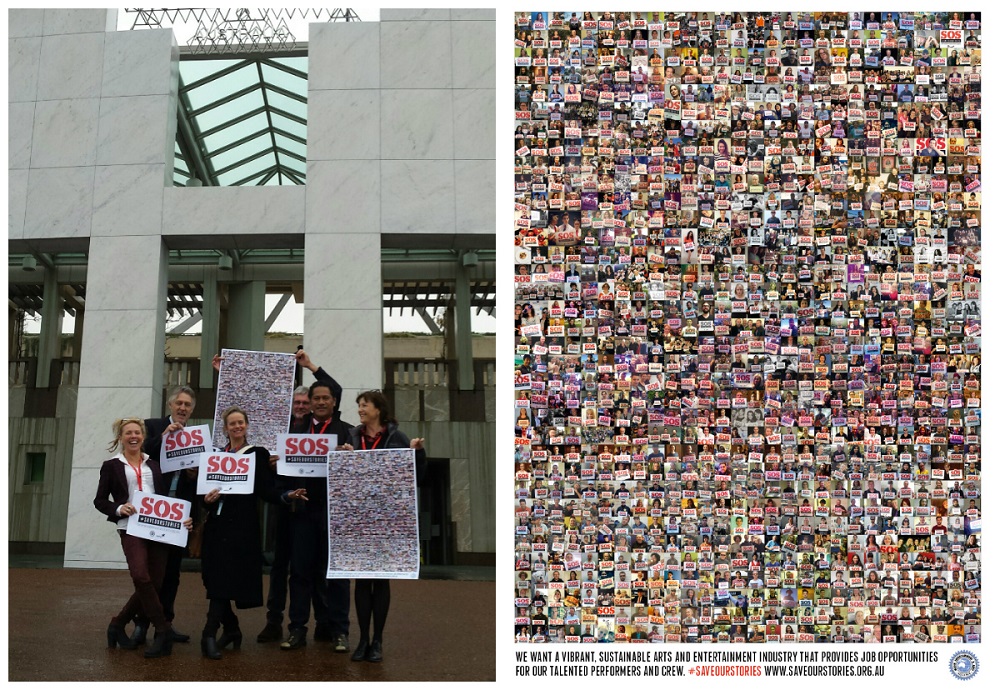 Leading Australian actors and crew visited Canberra on Tuesday to deliver a petition to Arts Minister George Brandis urging the government to not axe the visa rules that protect local jobs and stories.
Minister Brandis refused to meet the MEAA delegation to receive the #saveourstories visual petition, despite repeated requests. Instead, actors Geoff Morrell, Nadine Garner, Jay Laga'aia, Dave Nichols (key grip) and Robyn Elliott (costume supervisor) met with Labor shadow ministers and key cross-benchers.
MEAA Equity director Zoe Angus said:"The petition shows the faces of our industry. It sends a clear message to the Abbott Government: Don't scrap vital job opportunities for Australia's creative talent and the chance to tell uniquely Australian stories."
Morrell added: "Changing these laws would put us completely out of step with the world practice. Being able to import anyone, anytime, for any project would be disastrous for the Australian screen industry."
Shadow Arts Minister Mark Dreyfus hosted a briefing about the Government's review with members of the Labor Caucus. Marta Dusseldorp and Cate Blanchett joined by teleconference.
The #saveourstories petition features photos by more than a thousand #saveourstories campaign supporters. You can view the petition here: http://meaa.io/SOS_petition
Next steps – how you can help
The campaign is not over. Tell Canberra why it's important to #saveourstories by completing our online form.
For further information please visit www.saveourstories.org.au