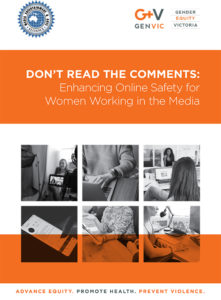 A significant proportion of women journalists have experienced online harassment, trolling and stalking during the course of their careers, but only 16% of those surveyed by MEAA in 2016 were aware of their workplace having existing policies to address online abuse (read the full report by clicking the image).
We need to begin to view online as an extension of journalists' workplaces, which means there need to be safety measures put in place on an organisational level to protect employees, as well as freelancers who are even more likely to be susceptible to this form of abuse.
This behaviour can impact on not only the journalists or broadcasters targeted, but anyone who witnesses this behaviour online may also be affected, due to the normalisation of sexism it contributed to.
We know what happens online can be a pervasive representation of people's beliefs about what is acceptable offline as well, and it's unacceptable for major media organisations in Australia to not be contributing to a solution.
We call on media organisations to develop policies about how to best support women journalists against gender-based abuse that they experience in the course of their work.