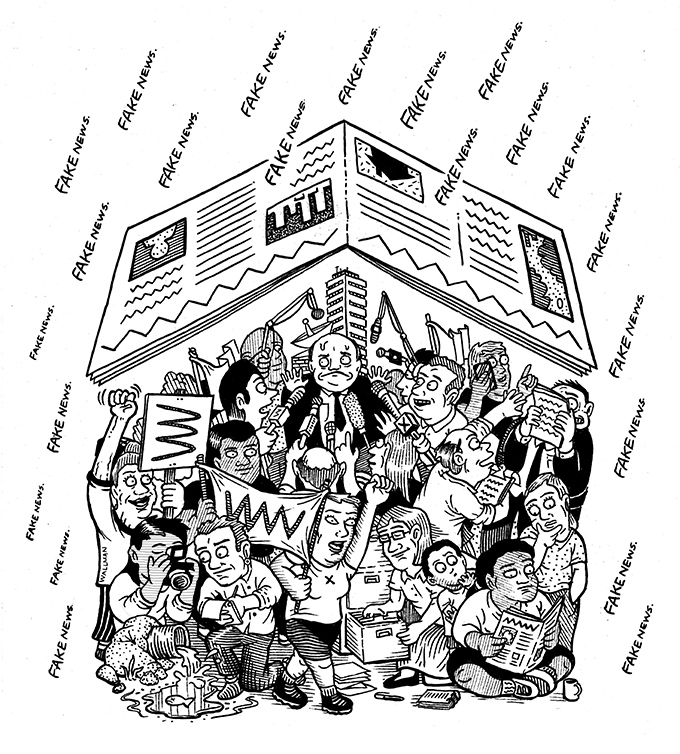 Illustration by Sam Wallman
Over the past half-a-decade, about a quarter of Australia's journalists have lost their jobs due to redundancies at publishers and broadcasters. Our industry and the very existence of journalism for the public good is in a precarious position.
Following the strike by Fairfax journalists over the proposed loss of 1-in-4 remaining metropolitan newsroom journalists – a Senate Select Committee was established to inquire into the Future of Public Interest Journalism (read MEAA's opening statement here).
MEAA believes this inquiry comes at an important cross-roads for our profession and our industry.
It's important that the voices of journalists are heard in this inquiry. MEAA is inviting journalist members to contribute to MEAA's formal submission which will be endorsed by the MEAA national media section committee.
Since 2011, our industry has lost more than 2500 journalists positions due to redundancies at publishers and broadcasters. Add to that the number of people who have left the industry and not been replaced. And while new players have joined the industry, they do not have the scale to replace what has been lost. These economic pressures have also put the pinch on freelancers and contributors.
The danger is that important areas of public life in Australia are not being scrutinised. There are fewer "boots on the ground" to report on important areas such as the courts, arts and entertainment, local government and elsewhere.
The inquiry is seeking ways government can help ensure "a viable, independent and diverse service" including the adequacy of "current competition and consumer laws"; the "future of public and community broadcasters" – particularly in regional and culturally and linguistically diverse communities; and any related matters. Take a moment to think about what this means and what could be done.
Now, we want to hear from you. Keep your answers brief and to the point.
---
Spread the word:
or share this page: meaa.org/journalism-inquiry/