The Federal Government is proposing to scrap the visa rules which regulate the number of foreign performers and crew who can work temporarily in Australia.
At present, foreign workers can be brought in to work temporarily in Australia on a project after approval from the Arts Minister, consultation with the MEAA and confirmation the project will bring a net employment benefit to Australia.
The government has ordered the review with a view to cutting what it describes as "reducing the burden and cost of unnecessary or inefficient regulation" and the review paper canvasses removing all of these protections.
Scrapping the visa controls would mean productions will have unfettered ability to fill all lead and major supporting roles with overseas performers and import entire teams of production crew.
Labor, the Greens and several crossbench Senators have publicly opposed the Government's plans, saying local actors and crew would suffer.
The changes are still being considered by the Government.
Your industry needs your support to fight these changes. Current and future generations of performers and crew are depending on you.
Download MEAA's background information sheet
Click below for information on MEAA process fees
ACTORS NEED OPPORTUNITIES
Local performers need every possible opportunity to be cast in local productions. It's how they get their training, it's how they make a name for themselves, it's how we tell Australian stories. Actors like Geoffrey Rush, Nicole Kidman and Cate Blanchett couldn't have forged international careers without the opportunities for local actors provided by subsidised Australian productions.
TAXPAYER SUPPORT SHOULD DELIVER LOCAL JOBS
Australian performers relish the opportunity to work with our international colleagues. The current guidelines don't prevent big names from coming here. That's not their purpose. What they do is make sure that a production funded by Australian taxpayers gives job opportunities to Australian performers. Productions with a lot of foreign finance can – and do – hire whoever they want.
RULES ARE LONG-STANDING AND WELL-SUPPORTED
The rules, which have been in place for more than two decades, are there to make sure Australian performers get a chance to tell Australian stories to Australian audiences. They have provided work opportunities and a career path for performers for the past 20 years. The current rules are widely supported in the industry.
EQUAL PLAYING FIELD A MYTH
The equal playing field is a myth. Australian actors can't just turn up in Hollywood and start working. US visa and union regulations concerning foreign actors are even stricter than here. Australian actors working in Hollywood are working on films that are financed privately and have no cultural remit. They don't receive taxpayers-funding.
LET'S KEEP WHAT WORKS
The current scheme (The Foreign Actor Certification Scheme) has done a good job, providing the industry enough flexibility while supporting Australian talent. If we don't protect our local entertainment industry, it will become weaker over time. Then all Australians will lose out.
Download FAQs here.
CREW NEED OPPORTUNITIES
Work in the screen industry is intermittent and unreliable. The fluctuating dollar, arts funding and government incentives are some of the many factors that impact screen production levels. When a production is shot in this country, every job counts. They provide invaluable work and training opportunities.
IT WILL BE EASIER TO IMPORT CREW
The 420 visa requires employers to demonstrate that imported workers genuinely have skills that are not available locally, and must pass a "net employment benefit test" to prove that their production will create jobs for local workers. The Abbott Government wants to replace it with a 'no adverse consequence' test. This would add uncertainty to the visa process and be incredibly difficult to enforce.
SAFETY IS AT RISK
Under the 420 visa employers must work with MEAA to comply with Australian employment and health and safety laws. These checks and balances are important. In 1998 an Australian stunt performer was killed on a British dramatised documentary filmed in Queensland. None of the British personnel were traveling on the correct visa and there had been no contact with MEAA. The stunt had not been performed in accordance with the Safety Code contained in the industrial instrument nor broader Australian standards. The stunt performer had been inappropriately engaged as a subcontractor so no workers' compensation policy applied.
RATES WILL BE UNDERCUT
When foreign crew are imported to work on a screen production or to broadcast an event they can be paid significantly less than the Australian market rate. During the 2015 Cricket World Cup a broadcast company imported more than 200 crew workers from South Africa, India and Malaysia The 420 visa was controversially not used in this instance. They were paid about $230 less a day than Australian workers would have been.
MEAA members have presented high ranking officials from the Federal Government's Arts Ministry with more than 1000 messages urging them not to scrap the visa rules that protect local jobs and local stories.
The messages were presented by Art Director Fiona Donovan, Focus Puller Jack Mayo, Actor/Producer Dustin Clare and Actor Geoff Morrell.
Thanks to everyone who supported the Save our Stories campaign, the Government has not yet gone ahead with the radical proposal they flagged in January.
MESSAGES:
"I am an Australian. I wasn't born here but my stories are made here. Long may that continue. Please retain the existing rules."
"We are running a small company and providing effects for the film and TV industries – we are doing this at the highest level but it is a fighting battle just to survive in the current climate. This campaign needs our support."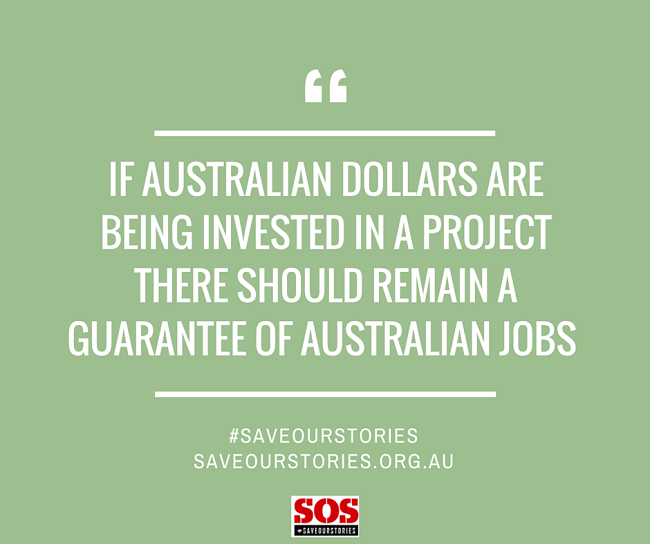 "Work in the screen industry is intermittent. If local screen technicians are passed over for overseas personnel that may mean a year or more without work. When that happens we start to lose our skills because we have not had the opportunity to practice our craft. Years of experience and expertise would be lost if we lost what little work there has been in recent years. The chances of Australian technicians having equal opportunities if we wanted to work in the US, Canada or the UK would be extremely remote."
"When Dame Enid Lorimer, OAM, was awarded the Chips Rafferty Memorial Award in 1982, the 94 year-old actress finished her acceptance speech by saying she was pleased she had lived long enough to see that Australian actors were no longer relegated to 'cast includes'. We do not want to return to the bad old days."
"Regional and rural areas of Australia matter. We need to hear the stories of people who live where we live."
"It's scary entering an industry that has such a high unemployment rate and we'll take any help we can get to survive and hopefully thrive."
"I am now over 50. I have been working in film & TV for over 30 years. I need this work to continue. Not only for me but also my kids so I can pass on my skills set. This is my life."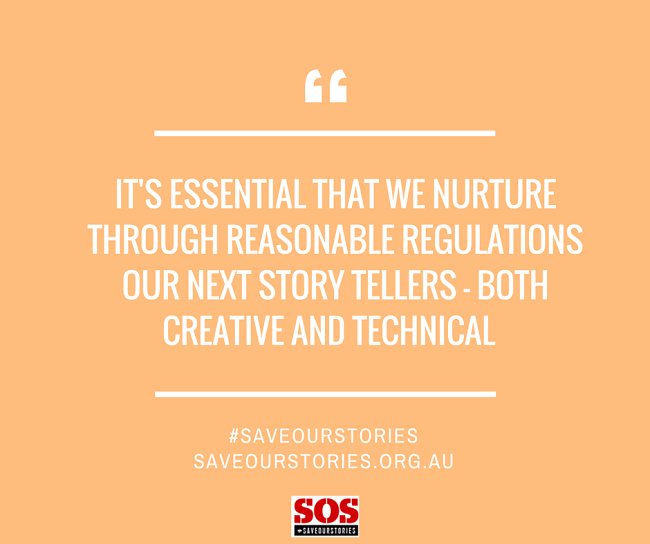 "I spent 18 months living out of my ute looking for work. Now I have work and am much happier not living in my ute. I would like to progress my career not end up jobless again."
"As a full-time freelance film maker competing for work is a constant battle. Every day I fight to be in front of the pack to ensure I have a job to pay my mortgage. If international crew breach our shores hundreds if not thousands of Australian TAX PAYING filmmakers will miss out on the work they deserve!"
"We have current regulations in place which allow for culturally confident and sensible collaborations with our international colleagues. A policy of complete deregulation in this country for the Arts will send extraordinary Australian talent back to the bleachers. The USA, UK and Europe all have strong protections in place to support the contributions made by their artists  – why would we give ours up?"
"With the influx of online streaming services, now is not the time to threaten the viability of the industry further, we should instead be building on our strengths and creating and selling our stories to the world."
"Our industry in South Australia is a small, boutique collection of highly-skilled performers and crew. I have been a performer for 45 years and I spend much of my time these days mentoring younger actors. I want actors of the calibre of Teresa Palmer and Xavier Samuel to be followed by many more stars who have forged their early careers in Adelaide. I know almost all the crews who work here and I know how hard it is to maintain a career, a family and a lifestyle here. The proposed changes to fair visa rules will do so much more than cut "red tape" – they will cut us off at the knees!"
"We have just seen god knows how many camera operators came to our country to cover the world cup of cricket and I stood alongside at least ten unemployed local operators outside the SCG twice with no apparent support from government to try and stop this happening."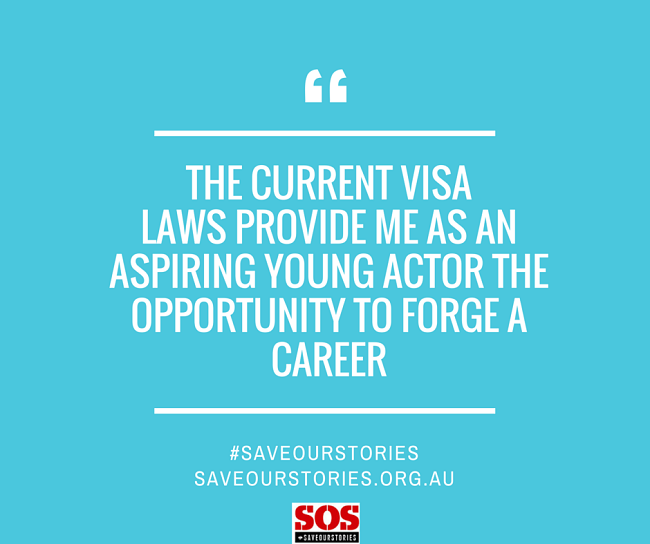 "There are already so few opportunities for Aussies in the arts (which isn't helped by the funding cuts either by the way!) Please don't take away the little we do have."
"I'm a young producer, and if I can't get a foot in the door making films here, I have nowhere to start my career."
"Within a relatively small industry we've an abundance of homegrown talent who rarely get to practice their craft and are eager to work, and certainly no need to bring in overseas talent beyond the model already successfully in place. I support #saveourstories, I support Australia, I support art. I hope you do too."
"We have great talent here, and we have emerging talent and industry professionals that aspire to be great, why outsource when we can buy, and invest in Australian made?"
"I am a young actor about to graduate from university and enter our vibrant Australian industry. Give me a chance to work in my own field, in my own country."