Breakthrough for Get Real on Rates
---

The Get Real on Rates campaign achieved a breakthrough today (May 16) when Screen Producers Australia agreed in principle to put forward a proposal that would introduce a tiered system of rates that is more closely matched to budget levels than the existing MPPA minimums.
MEAA members Sue Kerr, Aron Walker, Kate Saunders, and Nigel Devenport told producers that stagnating rates were driving crew from the industry and making it difficult to attract and retain a new generation of filmmakers.
While the detail has not yet been finalised, SPA representatives acknowledged that their research showed that rates for drama crew have stagnated generally over the last 10 years, and given the vital role of crew, that this was not sustainable for the future of the industry.
While the recognition of real rates is a significant development, we still have some way to go. It is likely that producers will seek trade-offs on conditions. Any firm proposals will be put to members for their consideration.
Congratulations to members who have been working to achieve this breakthrough for crew. MEAA and SPA representatives will meet again in six weeks to go through SPA's proposal in detail.
The Get Real on Rates campaign aims to:
•  Win recognition of the real rates that crew are paid on Australian film and TV drama productions;
•  Include these market rates in an enforceable MPPA industry agreement with producers;
•  Win annual cost of living increases to stop the stagnation of crew rates.
On October 26, 2016, screen crew around Australia stood together on and off set in a National Day of Action to throw their support behind the Get Real on Rates Campaign.
The campaign aims to win recognition of the real rates that crew are paid on Australian film and TV drama productions, include these market rates in an enforceable industry-wide Motion Picture Production Agreement with producers and win annual cost of living increases to stop the stagnation of crew rates.
Crew meetings were held on:
Cleverman, Janet King, Dr Blake, Wentworth, The Warriors, Thor, Maelstrom, Family Law and Flammable Children.
Meetings were also held for South Australian and West Australian crew.
The unity shown on that day proved to producers that we are serious about change. We are all in this industry together and we all want the same outcomes; a vibrant and sustainable Australian film and TV industry that respects the professionals who work so hard to make it a success.
Check out the photo gallery from the day:
Australia's thriving screen industry is globally recognised for its excellence and employs thousands of professionals and businesses. The latest reports* estimate the Australian screen industry contributes $5.8 billion to the Australian economy and employs an estimated 46,600 people. These reports have also shown an increase in locally made film and TV production in Australia.
Australian screen crews have a well-earned reputation as among the best in the world, for the professionalism of their work and their flexibility to meet the demands of production. But our industry cannot continue to thrive unless we value the people in it.
For years, crew rates have stagnated, while cost of living has gone up. Crew struggle to sustain their rates on nearly every job and because of this, many highly skilled people have left the industry. MEAA members across the industry are tired of their rates stagnating and even eroding on major productions. Screen crew are ready to stand collectively and fight for better pay and a more sustainable industry.
How can we get real on rates?
Through the Get Real on Rates campaign, MEAA seeks to set an enforceable benchmark of market rates. MEAA will advocate for these market rates to be included in the industry standard agreement, the Motion Picture Production Agreement (MPPA), and for rates to be increased annually with cost of living. Market rates would apply to commercially-funded TV drama, comedy series and feature films.
How are rates set now?
Rates are currently negotiated between crew and individual employers on a case by case basis. The legal minimum falls far short of what professional crew need to be paid to be able to make a living as freelance technicians. This leaves crew members having to negotiate pay multiple times a year, each time balancing the need to earn a sustainable rate with the risk of being undercut and unemployed. This precarious position has resulted in rates stagnating for long periods.
What we hope to change
The MEAA market rates will be the minimum standard that is paid in the market for a commercially-funded TV drama, comedy series or feature. We have broadly consulted with key industry members including department heads and supervisors, MEAA members, and crew. The MEAA market rates are the product of these extensive consultations.
How is your work valued?
When market rates are locked in as a new enforceable floor, crew will still be able to negotiate upwards as they do now, but the new minimum rate would reflect the real standard that crew need to be paid to make a living as freelancers.
How do we achieve this?
MEAA is lobbying producers to include market rates in the agreement. We need to show them that crew on every job across the country wants change. That means you need to get involved.
*  Economic contribution of the film and television industry in Australia. Australian Screen Association, February 2015.
Download the fact sheet:
The draft market rates have been determined after extensive consultation with crew working in the screen industry Australia-wide.
The rates on this document represent the minimum benchmark calculated for each role by department. Our aim is to ensure that once these rates are included in the crew agreements, producers will not be able to charge below them, however an individual can negotiate upwards.
Big changes in this industry have only happened when a majority of crew stand together as union members. To win real rates we need a majority to be committed to the campaign as union members. Here are some ways you can get involved:
1. Download, print and share this poster for your workplace.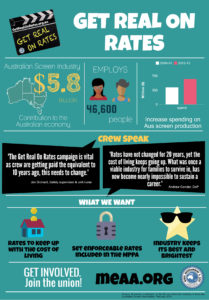 2. Take a campaign selfie.
Download the Get Real On Rates sign and take a selfie. Then send it to comms@meaa.org. Get your colleagues involved too!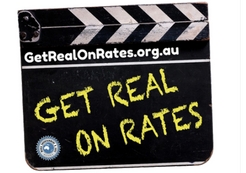 Your photo along with those of hundreds of other screen crew will be presented to Screen Producers Australia (SPA) at the negotiating table to send a strong message that the industry is ready for a change. Your action will show SPA that we are serious about setting a better industry standard on market rates for crew, that we want them to be included in the MPPA, and that we want rates to rise with CPI year on year to keep our highly skilled crew in the industry, to create a thriving, safe and more sustainable industry.
3. Join your union.
A union membership majority is key to winning real rates. Now is the time to join, stand together, and let producers know we are serious about changing the industry for the better. If you want to see changes, sign up to become a member of MEAA. Your membership:
•  Is a tax deduction
•  Includes free journey insurance (ie. cover for major injury on your journey to and from work)
•  Includes an option for public liability insurance for $3 per week ($20 million cover)
•  You can ring your crew organiser for advice and support on contracts or your rights at work
•  You have a role in in how the union is run through democratic structures
•  Cost is based on your annual income from the industry
For workers in the screen industry, fees begin at just $10.13 a week, and increase based on income to $29.44 a week for earnings above $103,500 a year. Remember, they are 100% tax-deductible. 
See the full fee structure here.
Already a member?
Share GetRealOnRates.org.au with a colleague.
Crew talk ahead of the National Day of Action on October 26:
MEAA members discuss their meeting with Screen Producers Australia:
Watch the Crew Speak video: