---
Sign the petition
9097/10,000 signatures
---
MEAA values your privacy (read our privacy policy here). This information will only be used internally by the union to identify key goals and objectives for our industry. By providing personal details MEAA may contact you directly to request further or more detailed feedback.
---
Spread the word:
or share this page.
WE, the undersigned, write this this letter as Australian journalists, writers, editors, publishers, academics, and lovers of literature, to call for our colleague and fellow award-winning journalist and author, Behrouz Boochani to be allowed to enter Australia.
Boochani, 36, is a Kurdish writer, journalist, and film-maker. He fled Iran in early 2013 following a campaign of persecution and harassment, and attempted to seek asylum in Australia. He has been imprisoned on Manus Island since August 2013.
In the six years that the Australian authorities have detained him, Boochani has courageously continued to work, writing for publications in Australia and overseas, tirelessly reporting on the conditions on Manus Island, while also helping Australian-based journalists cover the situation there.
In December 2017, the International Federation of Journalists recognised Boochani's work as a legitimate journalist and granted him an IFJ press card. As Australian journalists, we are acutely aware that his continued detention undermines Australia's credibility as a leader for press freedom across the region.
Boochani is undeniably talented. In 2017, he co-directed a film that he shot on mobile phone, titled Chauka, Please Tell Us The Time, which was selected for screening at numerous film festivals. His book, No Friend but the Mountains: Writing from Manus Prison (Picador) published in late July 2018, is an extraordinary account of his experience of the Manus island offshore detention system. It has been highly acclaimed by critics and in January, it won two of Australia's most prestigious prizes at the Victorian Premier's Literary Awards.
We are deeply concerned for Behrouz Boochani's welfare and safety. The success of his book and his status as a journalist have made him a target of the Manus authorities; a danger that has only increased with his rising profile.
As Australian journalists, writers, academics and readers, we extend a welcome to Behrouz Boochani. We regard him as a valuable member of the contemporary Australian literary community. He had the courage to stand up for the rights of his people in Iran, and in the past six years, he has borne witness to the trials of his fellow-detainees, and advocated for their freedom on Manus Island. We join with him in advocating for justice for all those detained on Manus.
We call on the Australian government to allow Behrouz Boochani into our country, where he can continue to work safely as a journalist and writer. We also urge that he be offered a pathway to permanent residency. We will all be enriched by this.
Signed:
Arnold Zable
Writer, novelist, patron of PEN Melbourne
Peter Greste
Journalist and author, spokesman for the Alliance for Journalists' Freedom, UNESCO Professor Chair in Journalism and Communications, University of Queensland
Janet Galbraith
Writer and poet, co-ordinator of Writing Through Fences
Hoda Afshar
Visual artist
John (J.M.) Coetzee
Writer
Kerry O'Brien
Journalist and author
Tim Winton
Writer
Tom Kenneally
Author
Anna Funder
Writer
Marcus Strom
Federal President, MEAA Media
Karen Percy
Federal vice-president, MEAA Media
Michael Janda
Federal vice-president, MEAA Media
Paul Murphy
Chief Executive, MEAA
Henry Rosenbloom
Publisher, Scribe
Tracey Spicer AM
Author and broadcaster
Kate McClymont
Investigative Journalist, Sydney Morning Herald
Quentin Dempster
Journalist, The New Daily
Michelle de Kretser
Writer
Omar Sakr
Poet
Caroline Jones AO
Journalist and author
Christos Tsiolkas
Author
David Marr
journalist and author
Helen Garner
Writer
Maher Mughrabi
Features Editor, The Age
Gabrielle Jackson
Assistant News Editor, The Guardian
Michael Heyward
Publisher, Text Publishing
First Dog on the Moon
Cartoonist, Guardian Australia
Drusilla Modjeska
Writer
Andy Griffiths
Author
Peter Rose
Writer and publisher, Australian Book Review
Mike Ticher
News editor, Guardian Australia
Kathy Lette
Writer
Peggy Frew
Writer
Alexis Wright
Writer
Steph Harmon
Culture Editor, The Guardian
Miki Perkins
Social Affairs Editor, The Age
Brian Castro
Writer and academic
Raimond Gaita
Writer and academic
Kim Scott
Author
Mem Fox
Author
Benjamin Law
Journalist, broadcaster and author
Ramona Koval
Writer and broadcaster, University of Melbourne
Patricia Cornelius
Playwright
Carrie Tiffany
Writer
Jennifer Strauss AM
Poet
Jacinta Le Plastrier
Publisher, editor, writer and poet, CEO, Australian Poetry
Quentin McDermott
Producer, Australian Story
Kate Grenville
Writer
Marieke Hardy
Writer, Artistic Director, Melbourne Writers Festival
Dennis Altman AM
Writer and academic, LaTrobe University
Prof Peter Singer AC
Writer and academic, University of Melbourne & Princeton University
Dr Clare Wright
Author and academic, La Trobe University
Arash Kamali Sarvestani
Filmmaker
Alice Pung
Author
Erik Jensen
Editor-in-chief, Schwartz Media
Di Morrissey
Author and journalist
Jacqueline Kent
Writer and editor
John Marsden
Author
Delia Falconer
Writer and academic
Liz Jones
Artistic Director, La Mama Theatre
Shane Maloney
Writer
Omid Tofighian
Translator and academic
Jacinda Woodhead
editor and writer, Overland Magazine
Geordie Williamson
Commissioning Editor at Large, Picador
Gig Ryan
Poet
Jill Jones
Poet and academic, University of Adelaide
John Kinsella
Poet
Shaun Tan
Author and artist
Catriona Menzies-Pike
Editor, Sydney Review of Books
Plus:
Sophie Cunningham, writer; Lindsay Murdoch, former foreign correspondent, The Age/SMH ; Jane Canaway, researcher and writer, ABC; Fran Molloy, Freelance journalist; Peter Boyle, poet; Enza Gandolfo, writer; Chrissi Charles, researcher, ABC ; Patrick Honan, researcher, ABC; Don Cumming, journalist, ACT President, MEAA Media Deputy Chair, MEAA Journalist Ethics Committee; Emma Wynne, journalist, ABC; Greg Miskelly, journalist, ABC; Lisa Horler, Filmmaker and journalist, ABC; Stephen A Russell, Freelance journalist ; Barbara Drury, Freelance journalist; Marisa Wikramanayake, Freelance journalist; Pamela Hewitt, Freelance editor; Bianca Nogrady, Freelance journalist; Ed Wensing, researcher, Australian National University; Terry O'Connor, Freelance editor, Chair, MEAA, Journalist Ethics Committee; Tracey Evans, writer and editor; Jane Pearson, editor, Text Publishing; Christine McKenzie, President, PEN Melbourne; Judith Morrison, PEN Melbourne; Myles Gough, Freelance journalist and Teacher; Paul Morgan, writer and editor; Glenys Osborne, writer, editor and Teacher; Autumn Royal, writer and editor, Liquid Architecture/Swinburne Univeristy; Anne Elvey, writer and editor, Plumwood Mountain journal; Marion May Campbell, writer and academic, Deakin University; Alex Skovron, writer and editor; Isobel Hodges, Committee member, PEN Melbourne, University of Melbourne; James Aitchison, author and, Poet, PEN Melbourne; Peta Murray, writer and academic RMIT University; Jill Bamforth, Teacher PEN Melbourne; David McCooey, academic, writer, Deakin University; Madeleine Rebbechi, Publicity Assistant, Text Publishing; Mireille Juchau, writer; Stefanie Italia, editorial Co-ordinator, Text Publishing; Maria Tumarkin, writer and academic, University of Melbourne; Andrea Goldsmith, writer; Martin Turner Sub-editor, Community Newspaper Group, WA President, MEAA ; Glen Le Lievre, Cartoonist; Gina McColl, Consultant and investigator Women's Agency; John Tully, author and historian Victoria University; Jennifer Mills, writer; Charlotte Wood, writer; Mathilda Imlah, Publisher, Picador; Emily Maguire, writer; James Bradley, author; Stephanie Wood, writer and journalist; Terry Whitebeach, writer and historian; Olivia Rousset, journalist and Filmmaker; Debra Adelaide, author and academic, University of Technology Sydney; Kyra Giorgi, writer and researcher; Jeff Sparrow, writer and broadcaster, Guardian/3RRR; Bernard Cohen, author and educator, The Writing Workshop; Mary-Anne Toy, Freelance communicator; Sam Wallman, Cartoonist; Susan Hawthorne, author and publisher Spinifex Press; Joan Healy, writer Pen Melbourne; Veny Armanno, writer and academic, University of Queensland; Sam Cooney, publisher and Director The Lifted Brow / Brow Books; Josh Robertson, journalist, ABC; Natalie Conyer, writer; Belinda Castles, writer and academic, University of Sydney; Josephine Rowe, writer ; Josiane Behmoiras, writer; Fiona Wright, writer; Ann Shenfield, writer and illustrator; Diana Cousens, writer; Jason Steger, journalist, The Age/ SMH; June Factor, writer and folklorist; Fiona McFarlane, writer; Chloe Walker, Freelance wrriter; Felicity Plunkett, writer; Emma Jones, writer; Prue Gill, Teacher; Krissy Kneen, writer; Michele Seminara, writer and editor; John Kinsella, Poet; Tracy Ryan, writer; Jen Webb, writer and, Poet; Shane Strange, writer and publisher, Recent Work Press; Anna Jacobson, Poet and Artist; Noëlle Janaczewska, writer; Michael Keats, journalist (retired), United Press International; Dominique Hecq, writer; Eugen Bacon, writer and editor; Kate Hennessy, writer; Amanda Lohrey, writer; Gig Ryan, Poet; Belinda Chayko, Screenwriter; Kathryn Heyman, writer ; Ravi Shankar, Poet and writer, University of Sydney; Michelle Cahill, author, University of Wollongong; Jenny Lee, editor and author; Jennifer Mackenzie, writer ; John Lewis, journalist and documentary maker; Maria Takolander, writer and academic, Deakin University; Deb Wain, writer and academic, Deakin University; Sam Twyford-Moore, writer and arts manager; John Lawrence, journalist and author; Meg Mundell, author, journalist and academic, Deakin University; Kirstie Innes-Will, Editorial Production Director, Associate publisher, Black Inc. /Quarterly Essay; Terri-ann White, publisher and writer, UWA Publishing; Caroline deCosta, writer, James Cook University; Kent MacCarter, editor/Publisher, Poet Cordite Poetry Review/Cordite Books; Blake Ayshford, Screenwriter; Kris Wyld, Screenwriter; Megan Mooney Taylor, Australian literature academic, Swinburne University of Technology; Steven Lang, writer; Josephine Scicluna, writer and academic, Deakin University; Isabel de la Rambelya, writer ; Jodi Gallagher, writer and playwright; Tony Brooks, author, playwright and poet; Nikita Petroulias, writer; Beth Spencer, Poet and author; Sarah Bassiuoni, writer ; Kylie Needham, Screenwriter; Sue Smith, Playwright; Tim Thorne, Poet; Jennifer Maiden, writer; Katharine Margot Toohey, publisher, Quemar Press; Nadia Wheatley, writer; Ken Searle, Artist; Daryl Dellora, Filmmaker and author, Film Art Media; LK Holt, writer; Robin Morrow AM, Critic; Kylie Ladd, writer; Tom Flood, writer, editor, musicians; Mars Drum, Artist; Ray Tyndale, Poet; Tangea Tansley, writer; Rozanna Lilley, Anthropologist, author, Macquarie University; Angela Savage, director, Writers Victoria; Jackie Mansourian, writer and reader; Catherine Ryan, Playwright and researcher; George Myconos, researcher; Andy Jackson, Poet/academic, La Trobe University; Caitlin Yates, Publishing Director/Publisher, Black Inc/Quarterly Essay/Nero; Jane Novak, Literary Agent; Nikos Papastergiadis, writer, academic; Bob Brown, writer, environmentalist; Nicholas Jose, writer; Jane Palfreyman, publisher, Allen and Unwin; Laura Kroetsch, Festival director, Dark Mofo/OzAsia; Deborah Robertson, writer, academic, RMIT; Rachael Guy, Artist; Marilyn Lake, Historian, University of Melbourne; Wayne Macauley, writer; Ginger Gorman, journalist and author ; Fiona McGregor, writer/artist; Ruby Ashby-Orr Senior, editor, Affirm Press; Kaya Wilson, scientist/writer, University of Newcastle; Josepha Dietrich, writer, editor, researcher, University of Queensland; Aviva Tuffield, publisher, University of Queensland Press; Meredith Curnow, publisher, Penguin Random House; Margot Lloyd, editor, Wakefield Press; Anna Blay, publisher, Hybrid publishers; MTC Cronin, writer; Meera Atkinson, writer/academic, New York University Sydney; Peter Mews, writer; Sarah Davis, writer; Peter Papathanasiou, writer; Anna Hughes, program manager, Adelaide Writers' Week; Jill Jones, Poet and academic, University of Adelaide; Jenny Valentish, journalist, The Guardian, ABC; Alison Urquhart, publisher, Penguin Random House; Eamon Campbell-June, artist, publisher's assistant, Scribe Publications; David Lynton, writer; Louise Omer, writer; Rowena Morcom, publisher and editor, Good Reading Magazine; Mandy Sayer, writer; Bernadette Brennan, writer; Vivienne Mohan, writer; Nicola Redhouse, writer; Alexandra Lavau, editor and writer; Michael Deves, editor Wakefield Press; Mark Dapin, writer; Sally Rippin, writer; Tracey Cheetham, Publicist, Pan Macmillan Australia; David Leser, journalist/Author; Caroline Petit, writer; Di Morrissey, writer/author/journalist ; Rebecca Starford, writer; Phillipa McGuinness, publisher and writer, NewSouth Publishing; Sally Breen, author/academic, Griffith University ; Quinn Eades, author/academic, La Trobe University; Akos Armont Director/producer, Aurora Films; Garry Disher, author; Lisa Shanahan, writer; Poppy Nwosu, writer; Emma Sachsse, writer; Catherine Padmore, academic/author, La Trobe University; Fiona Reilly, doctor and writer; Zoe Thomas, lecturer/academic, La Trobe University; Imbi Neeme, writer; Michael Bollen, publisher, Wakefield Press; Ashleigh Synnott, writer; James Ley, writer; Brigid McCarthy, academic/writer, La Trobe University; Catherine Keenan, executive director, Children's Writing Centre Story Factory; Lisa Walker, writer; Melanie Joosten, writer; Suzanne Falkiner, writer; Julia Beaven Book, editor Wakefield Press; Anna Valdinger, publisher, HarperCollinsPublishers; Alison Alexander, writer; Rod Jones, writer and academic, Melbourne University; Beth Yahp, writer, academic, University of Sydney; Andrew Pippos, writer; Alice Grundy, editor, Brio Books; Annabel Stafford, writer; David Stephens, editor, Honest History website; Kristina Olsson, writer and journalist; Mark Isaacs, writer; Kelly Fagan, publisher, Allen & Unwin; Jo Dyer, Festival Director, Adelaide Writers' Week; Shane Maloney, writer; Ruth Balint, historian, University of NSW; Vanessa Pellatt, senior editor, UQP; Lex Hirst, publisher, Pantera Press; Garry Disher, author; Angela Meyer, author and publisher, Echo Publishing; David Winter, Senior editor, Text Publishing; Rebecca Hamilton, editor; Geoff Parish, journalist; Sharon Davis, journalist; Alex Miller, author; Juan Garrido, poet; Dr Claire Loughnan, academic, Melbourne University; Judy Horacek, cartoonist; Melissa Bruce, writer, PEN Sydney; Nova Weetman, writer; Elisabeth Hanscombe, writer; Adrian Caeser, writer; Nick Parsons, chair, Currency Press; Jennifer Green, author; Caroline Wood, publisher, Margaret River Press; Gretchen Shirm, writer; Jennie Orchard, editor; Lindy Cameron, writer, publisher, Clandestine Press; Beejay Silcox, writer and critic; Michael Shmith, writer and editor; David Golding, senior editor, Scribe; Terri-ann White, publisher and writer; Ingrid Ohlsson, Director, Non-fiction Publishing, Pan Macmillan Australia; Ariane Durkin, senior editor, Pan Macmillan Australia; Georgia Douglas, editor, Pan Macmillan Australia; Jeremy Chambers, author; Kelly Gardiner, writer; Kirsten Krauth, writer and editor; Elise Jones, Senior Editor, Books for Children and Teenagers, Allen & Unwin; Fran Bryson, writer; Ben Randall, writer and filmmaker; Lisa Shanahan, writer; Tony Messenger, writer; Jane O'Connell, writer; Alison Green, CEO, Pantera Press; Sulari Gentill, writer; Ian Wansbrough, screenwriter and writer; Carol Ann Martin, author; Deborah Hunn, academic; Martine Murray, writer; Sarah Attfield, academic, UTS; Jane Godwin, writer; Jo Case, marketing and publicity director, Wakefield Press; Romy Ash, writer; Tim Watson-Munro, writer; Victoria Morgan, senior editor, Macquarie Dictionary; Rachel Power, journalist and editor; Ailsa Piper, writer; Rosalind Reines, journalist; Sophie Hamley, publisher, non-fiction, Hachette; Bastian Phelan, writer; Alan Carter, author; Siobhan McHugh, author and academic, University of Wollongong; Kate Ryan, writer; Ivy Alvarez, author and poet; Anne Maria Nicholson, journalist and author; Hester Joyce, academic, La Trobe University; Suzie Miller, playwright, Griffin Theatre; Jock Serong, author; Yassir Morsi, academic, La Trobe University; Rebecca Hamilton, editor; Alison Moore, editor, Macquarie Dictionary; Lucy Neave, writer and academic, ANU; Clare Marshall, senior editor, Pan Macmillan Australia; Vincent O'Donnell, filmmaker, academic and broadcaster, RMIT University; Sonia Orchard, writer; Pippa Masson, writer; Kim Mahood, writer; Louise Pfanner, author and illustrator
Behrouz Boochani
 is a Kurdish-Iranian journalist, writer and film maker who has been detained at the Manus Island Regional Processing Centre since August 2013.
Boochani was born in Ilam city in west Iran in 1983. He graduated from Tarbiat Madares University in Tehran with a masters' degree in political geography and geopolitics.
He worked as a freelance journalist and for several Iranian newspapers –Kasbokar Weekly, Qanoon, Etemaad – and the Iranian Sports Agency. He published articles on Middle East politics and interviews with the Kurdish elite in Tehran, and with several colleagues, he founded, edited, published and wrote for the Kurdish magazine Werya, documenting Kurdish aspirations for cultural freedom.
On February 17, 2013, officials from the Islamic Revolutionary Guards Corps ransacked the Werya offices in Ilam and arrested 11 of Boochani's colleagues. Six were imprisoned. Boochani was in Tehran that day and avoided arrest.
On hearing of the arrests he published the information on the website Iranian Reporters, and the report was widely circulated. Boochani feared for his safety and went into hiding. Boochani fled Iran on May 23, 2013. In July of that year he was among 75 asylum seekers intercepted by the Australian Navy en route to Australia.
After initially being detained on Christmas Island, he was later transferred to the Manus Island Regional Processing Centre in August 2013, where has remained since.
He has subsequently been interviewed by the UNHCR and found to be a genuine refugee.
Acclaimed journalist, writer and film maker
Boochani has continued working as a journalist from Manus Island, filing articles and videos for Guardian Australia, The Saturday Paper, New Matilda, The New York Times and other Australian and international publications, while also assisting Australian-based journalists reporting about the situation there. He contributes to a range of Kurdish-language publications, and has collaborated on books and films about life inside the detention centre. Boochani's journalism has provided invaluable insight into the humanitarian crisis on Manus Island that has resulted from the Australian government's zero tolerance policy towards asylum seekers arriving by boat.
Boochani's case has been adopted as a 'Main Case' by the London-based freedom of expression organisation PEN International, and he was shortlisted in the journalism category for the 2017 Index on Censorship's Freedom of Expression Awards.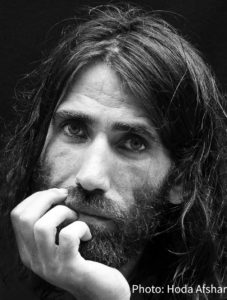 In early 2017, MEAA co-ordinated an international open letter to then-Prime Minister Malcolm Turnbull calling for Boochani to be resettled in Australia, which was signed by dozens of journalists, writers, actors, artists and international organisations.
In 2017, he co-directed a film mostly shot on mobile phone, titled Chauka, Please Tell Us The Time, which was selected for screening at the London International Film Festival in October.
In December 2017, he was granted an International Federation of Journalists international press card in recognition of his work as a journalist on Manus Island. This card is recognised in 130 countries and provides instant confirmation that the bearer is a working journalist. It is only issued to genuine journalists who are committed to ethical standards and solidarity between media professionals.
His 2018 book, No Friend But The Mountains: Writing From Manus Prison (Picador) has been critically acclaimed and shortlisted for several awards, and won the prizes for literature and non-fiction at the Victorian Premier's Literary Awards in January 2019. The book was written on Manus via hundreds of WhatsApp messages to his translator, Omid Tofighian.
In the winning citation, the judges wrote: "Altogether, this is a demanding work of significant achievement. No Friend But the Mountains is a literary triumph, devastating and transcendent."
Watch the Australian Story documentary about Behrouz Boochani, which screened on the ABC on April 1.